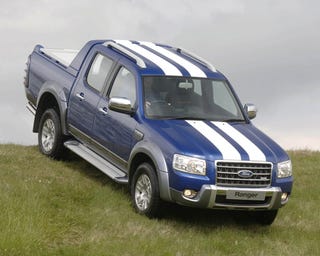 Despite the long and drawn-out death rattle of the North American Ford Ranger, the Ranger name lives on with more success in the UK as a Mazda B-series-based pickup. The extreme version of this vehicle is the Ranger WildTrak, which offered every feature they could think to put on a truck including an off road package, rails on every surface, titanium body cladding and a revised version of the 3.0-Liter Duratorq TDCi engine good for 156 horsepower and approximately 280 lb.-ft. of torque. There was only one thing missing: blue paint with white stripes.


The striped color treatment, similar to the treatment found on the Focus ST, is all that differentiates this "Le Mans" style Ranger for the base WildTrak. Said Ford of Britain exec Steve Kimber "We are always looking to cater for the pick-up driver who takes style seriously. Performance Blue has become a popular choice on Ford's passenger cars and it looks great combined with the GT-style stripes on the new Ranger."
Looking at this truck it's completely like being on the banks of the Sarthe. We joke, but we sort of wished we lived in a country where a truck could be designed to imitate great racing. On the other hand, a Gulf-liveried F-250 would be awful.
[Ford via World Car Fans]