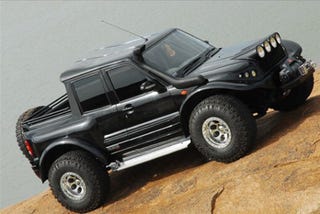 Mahindra has just jointly announced with FEV that they'll be displaying their sub-continent-styled Mahindra Scorpio with a diesel-electric hybrid powertrain at the SAE World Congress this weekend here in Detroit. The system includes a 40 HP E-motor that works in stop/start, electric acceleration, and regenerative braking capacities — developing peak torque in the range of 200 lb-ft. The diesel engine is a 2.2-liter inline four with common rail injection, developing 113 HP mated to a six-speed automatic transmission. Although no word on what this has to do with the Mahindra Appalachian we'd been told to look for this week at the SAE World Congress, or whether we'll be seeing this curry-flavored Indian import stateside, it at least looks like the hybrid SUV market is set to get mighty interesting. Press release below the fold and in case you're interested, the shot up top is a camino-ized version of the Scorpio they'll be showing off. So you probably shouldn't expect a truck bed.
AUBURN HILLS, Mich., April 10 — Mahindra & Mahindra (Mahindra), one of the leading auto manufacturers in the Indian market, and FEV, a leading developer of advanced powertrain and vehicle technologies, announced today that FEV will exhibit a diesel-electric hybrid version of the Scorpio SUV at the 2008 SAE World Congress. The Congress takes place April 14 - 17 at Cobo Center, in Detroit, Michigan. The diesel hybrid version of the vehicle was developed by Mahindra with support from FEV. The announcement was made jointly by Mahindra's Dr. Arun Jaura, Chief Technology officer, Mahindra Group, and Gary Rogers, president and CEO of FEV, Inc.
"The Scorpio vehicle is a clear indicator of the enormous implications of globalization on the changing paradigm in vehicle development," said Rogers. "A rapid advancement of technology is occurring on a global scale, and our OEM customers are increasingly leveraging FEV's global presence to ensure around- the-clock development of new powertrain and vehicle concepts. The FEV Group has successfully expanded its capabilities and international reach to accomplish shorter development times and to support these types of global initiatives for its OEM partners."
FEV contributed its expertise in hybrid powertrain systems development and integration, as well as software development to support Mahindra in the hybridization of the vehicle, the first of its kind to be marketed in the Asian market.
"FEV has been a very receptive and experienced partner in the program and is known for their HEV work across the globe. With their support, we were able to meet our aggressive targets. They have made a valuable contribution to the development of the Scorpio Hybrid Diesel SUV," said Dr. Arun Jaura, Chief Technology officer, Mahindra Group.
The Mahindra Scorpio hybrid electric vehicle (HEV) features the following characteristics:
— Diesel-electric parallel hybrid vehicle with four major functions:

- Start-stop

- Electric launch

- Torque augmentation

- Regenerative braking

- Seamless but enhanced driving experience

— 2.2 Liter, I-4, second generation diesel common rail engine with 85 kW

and 270 Nm ratings

— 6-speed automatic transmission

— 30 kW (peak) motor with max torque of 270 Nm (peak) and a max speed

8500 rpm

— 288V, 8.4 Ah NiMH battery

— Quick cold start with e-motor assist
The Mahindra and Mahindra diesel-electric hybrid is representative of the type of advanced vehicle technologies under development by FEV. Further examples of this technology will be on display at the FEV exhibit.