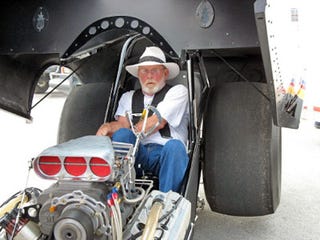 We're all saddened to hear legendary drag racer, builder and tuner Pat "Uncle Patty" Foster passed away on March 28th due to what we're told were "medical complications." What to say about "Uncle Patty?" Well, we could talk about how Foster started his career as a test pilot, or how over the past 35 years Pat Foster built everything from Gas Coupes to Land Speed Record cars, and every Dragster and Funny in between. We could talk about how Foster was involved in virtually every aspect of the Southern California and national racing scene — how he worked with the likes of Woody Gilmore, Ronnie Scrima, Frank Huszar, Jim Hume, Nye Frank, Tom Jobe, Mickey Thompson and the recently-passed John Buttera. No, instead, we'll let Hot Rod's Jim Hill tell you a story from the June '69 NHRA Springnationals where he first crossed paths with "Uncle Patty"
On a qualifying run Foster collided with Gerry Schwartz, a relatively new Funny Car racer from Fort Wayne, Indiana. The well-liked Schwartz had assembled a Logghe chassis and a nitro burning big-block Chevy and was trying to make the Springnationals his breakthrough event. The car was once the Logghe "house car", mounting a Cougar body and powered by an SOHC Ford. Now with the Chevy it was called the "Ratty Cat". Although not as well known as the team of Foster and Ongais, Schwartz and his car had the ability to make the show and go rounds.

Conflicting stories have since been told, but the two cars collided in a frightful, screeching, grinding crash. Schwartz's Cougar did several violent rollovers atop the Armco guardrail with dust and debris raining across a wide area. I was on the pit side of the track and had walked over to the fence to watch the fuel cars make their runs. In the resulting melee the engine in Schwartz's high-gear only car went sky-high, exploding and tossing its clutch, flywheel, floater discs and other components. Pieces came slashing towards my location and as I tried to run to safety, I suddenly realized that the shrapnel was much faster than my feet. The pieces kissed and landed in the pits, striking several cars but injuring no one in the pit area.

Across the track the crash was as bad as it looked. Both cars were destroyed, the damage to Schwartz's car obviously the worst. Foster had injuries, but the innovative roll cage design of the new M/T car kept Foster from more serious peril. Schwartz's older car didn't have that advantage. The steel guardrail acted like a vicious buzz saw and Gerry Schwartz perished from massive head injuries sustained in the crash.

Many years later, after I had become friends with Pat, I told him I had been there, and I related my own recollections of that day and its aftermath. Foster's face grew dark. It was obvious that this was a memory maybe best left unvisited. After a few seconds to gather his composure he told me the whole story of that day and the run, and how much he regretted its results.

Pat Foster was like that, always quick to relate a humorous story from the old days or to explain what happened and how he handled another. When the story related to one of the tragedies in his life he never ducked the punch, but stepped up and told it the best way he knew, honestly and factually. It's impossible not to admire someone with that type of personal ethical character.
We need more men in racing with the honesty of Pat Foster. He'll be sorely missed. [Hot Rod]