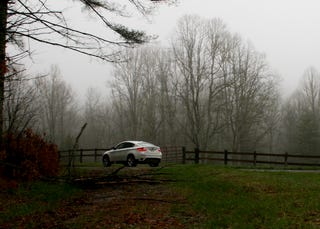 Why you should buy this car:
Odd vehicles fascinate you. You're open-minded and prepared to accept that a big, tall, heavy SUV can out-drive many a sports car. You always wanted a Lamborghini LM002 but are locked into a world of lease agreements. Your heart says sports car but your head says, "You live at the end of a dirt road in mountains that are snowbound nine months out of the year." Your own personal project car hell is creating the ultimate Dakar racer.

Why you shouldn't:
You think that lightness and simplicity are the be all and end all of automotive greatness. SUVs offend you. You need an SUV for off-roading and hauling manure. You have small children. The thought of $5 a gallon gas sends you into deep depression.


Suitability Parameters:
Speed Merchants: Yes
Fashion Victims: Yes
Treehuggers: No
Mack Daddies: Yes
Tuner Crowd: No
Hairdressers: Yes
Penny Pinchers: No
Euro Snobs: Yes
Working Stiffs: No
Technogeeks: Yes
Poseurs: Yes
Soccer Moms: No
NASCAR Dads: No
Golfing Grandparents: No
Also consider:
• Mercedes CLS
• Porsche Cayenne
• Range Rover Sport
• Infiniti FX50
• Mercedes G55 AMG
• Audi S6 Avant

Vitals:
• Manufacturer: BMW
• Model tested: X6 xDrive35i
• Model year: 2009
• Base Price: $53,275
• Price as Tested: $63,225
• Engine type: 3.0-liter twin-turbocharged inline-six
• Horsepower: 300 @ 5,800-6,250 RPM
• Torque: 300 @ 1,400-5,000 RPM
• Red line: 7,000 RPM
• Transmission: 6-speed automatic
• Curb Weight: 4,894 lbs
• LxWxH: 192.0" x 78.1" x 66.5"
• Wheelbase: 115.5"
• Tires: 315/35 ZR20 front and rear
• Drive type: AWD
• 0 - 60 mph: 6.5 seconds [estimated]
• 1/4-mile: N/A
• Top speed: 149mph
• EPA Fuel economy city/highway: 15/20 MPG
• NHTSA crash test rating: N/A
Also see:

All of our reviews are always available by clicking the Jalopnik Reviews tag in the masthead.