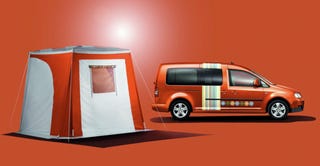 Volkswagen revealed their latest version of the camper van, the VW Caddy Maxi Tramper, at the Auto Mobil International (AMI) show in Leipzig. The Maxi Tramper, based on the Volkswagen Caddy Maxi Life, looks like a marketing tie-up between Target and the automaker for the people and comes equipped with a removable six-and-a-half foot long bed and curtains. It's like the perfect conversion van maxi pad for any Bavarian cream puff looking for a dreamy vacation on a bargain-basement budget. But this Tramper ain't just the latest shag-pad for Gary and Janet, it's the new hotness for any enterprising young couple looking to get their camping swerve on with a range of options including two different tent attachments, an electric sliding/tilting sunroof, ventilation grilles with insect protection, 7-liter icebox, a battery saver mode for midnight reading sessions without draining the car battery and a camping furniture set. A magnetic curtain for the rear door window comes as standard to ward off prying eyes. Full press release on all of V-Dub's "automotive springtime" being launched at this year's AMI after the jump. Yes, you heard us right, it's "Springtime for Volkswagen" in Leipzig. Something tells us VW's never seen "The Producers" before, have they?


Wolfsburg / Leipzig, 28 March 2008 - Volkswagen is launching into this year's automotive springtime with a genuine display of new model fireworks. Six German premieres are being presented to the public from April 5 to 13 in Leipzig at the 2008 Automobil International. They include the four-door Volkswagen Passat CC coupé and the new all-round Scirocco sports car.

Volkswagen is celebrating the comeback of the legendary two-door car. Thanks to its long sweeping wagon-coupé roof it offers space for four adults, making it the sports car for every day of the year. The Scirocco is powered by four TDI and TSI engines that are as torque-strong as they are economical. Their power range lies between 90 kW / 122 PS and 147 kW / 200 PS. The new sports car will be offered with numerous innovative technologies such as an adaptive chassis control system.

Volkswagen Passat CC

The Volkswagen Passat CC is one of the most important new Volkswagen models of the year. Its calling card: Coupé design, yet four doors; impressive comfort, yet pure dynamics; sporty interior, yet ample space without compromises. The Passat CC is a progressive technology platform with pioneering assistance and vehicle dynamics systems. They include the "Lane Assist" lane-keeping system and a new "adaptive chassis control" system. Volkswagen will be offering the Passat CC exclusively with highly advanced direct injection engines. The gasoline engines (TSI and FSI) deliver 118 kW / 160 PS, 147 kW / 200 PS and 220 kW / 300 PS, while the common rail engines (TDI) go to the starting blocks with 103 kW / 140 PS and 125 kW / 170 PS.

Volkswagen Golf Variant TDI 4Motion

Also celebrating a premiere on German soil is the Volkswagen Golf Variant TDI 4Motion. Thanks to its full-time all-wheel drive, it provides the best possible road grip even under the harshest of conditions. In extreme cases, up to 100 percent of the car's propulsive force can be transferred to the rear wheels. The 4Motion system is paired with an economical and torque-strong TDI with 77 KW / 105 PS. The Golf Variant TDI 4Motion accelerates from a stop to 100 km/h in 12.9 seconds, is 185 km/h fast and consumes just 6.0 liters of diesel per 100 kilometers.

Studie Volkswagen Golf TDI Hybrid

In the Golf TDI Hybrid, Volkswagen is demonstrating the great energy-saving potential that is possible when a high-tech diesel, E-motor and 7-speed DSG are combined. The concept car consumes just 3.4 liters of diesel per 100 kilometers. Designed as a high-performance full hybrid, the Golf TDI Hybrid masters both pure combustion and mixed mode operation - that is, the powerful and fuel-efficient combination of TDI and E-motor. Also possible: emissions-free driving in electric drive mode. In the city, an automatic start/stop feature automatically shuts down the turbo-diesel whenever the vehicle is at a stop.

Volkswagen Passat Variant TSI Ecofuel

The Volkswagen Passat Variant TSI EcoFuel is celebrating its German premiere at the 2008 Automobil International too. It marks the beginning of a new era of natural gas powered cars. The reason: until now, there have been rather restrictive limits to the temperament of cars powered by natural gas, a fuel that is as environmentally-friendly as it is economical. The Passat - thanks to its 110 kW / 150 PS strong TSI engine - is finally putting an end to this. Despite its high performance, the Passat's direct-injection turbo engine - configured for natural gas operation for the first time in the world - is satisfied with just 5.2 kilograms of natural gas per 100 kilometers.

Volkswagen Caddy Maxi Life

Volkswagen Commercial Vehicles is also celebrating the automotive springtime in Leipzig and is presenting the camper variant of the Caddy Maxi Life, which goes by the name of Tramper, and the special Caddy Life Style. Both of these models have extensive equipment features in common, which once again underscore the utility of the "small" passenger vans produced in Hannover as campers or exclusive vans. In addition, the Multivan United is being introduced for the first time. It unites a number of different customizing features. Also on display at the show are the Caddy BlueMotion and - at the Natural Gas Association exhibit - the Caddy Maxi EcoFuel.
[VW via World Car Fans]