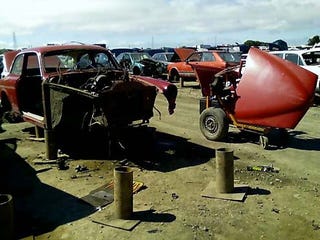 A few weeks back, we saw a reasonably complete looking 1964 Volvo Amazon in an East Bay wrecking yard, and the outpouring of grief- particularly from European readers- was heart-rending. How could such a nice Amazon be treated like some dime-a-dozen Excel or Taurus? How? Well, nobody saved the whole car, but a Jalopnik reader emailed me for the location of the yard and then proceeded to drive five hours each way in the hope that his recently wrecked Amazon might get some front body parts. Make the jump to read his story:


Thanks again for disclosing the location. I wasn't able to make the trip until Tuesday the 25th of March. I was taking a big risk making a 236 mile drive, but it paid off.
Luckily, it was there waiting for me. They were clearing out the 2 rows next to it. The forklift driver told me he was taking it to be crushed the next day. What luck, and it even had almost every part I needed.
I stuffed it all in and on my Jeep Cherokee and drove for almost 5 hours (nice rush hour traffic up there) until i finally made it home, tired but very happy.
I scored a fender, hood, header panel, bumper, crossmember, and a lower A-arm. All for $300 plus gas and a day of my life.
The donor was in pretty bad shape with rotted out rockers and such, but had been in a previous frontend collision with replaced/repainted body parts that were in good condition.
At least mine won't be crushed too...yet!