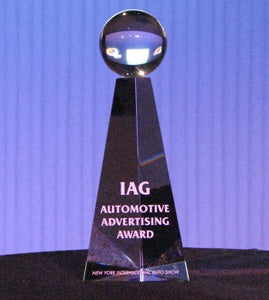 Just prior to Chrysler CEO Bob Nardelli's New York Auto Show keynote speech this morning, some guy who works for The Dark Lord of All Media Rupert Murdoch conducted a none-too-brief awards ceremony for carmkers, their marketing muckety-mucks, and their ad agencies. IAG Research, an advertising-effectiveness-measuring outfit, handed out the hardware, an example of which is pictured at left.
The design is symbolic, but we forget what the symbols are, and we were so cynically dismayed utterly starstruck by Pentastar Bob that we forgot to write 'em down—something about angles and a magical orb that seduces customer into car loans.... It was all incredibly juicy. Hummer was among the winners in this competition for laurels among nationally aired TV spots.
Hummer, with creative supplied by Modernista!, won for "Most Liked Ad" ("Like, it was the the ad that those in the vast IAG survey most, um, liked, you know"). It was that one of Hummers engaged in all manner of video game awesomeness (watch it here.) Obviously, the award you wanna win, if you're the standard-issue low-self-esteem marketing big shot.
Subaru won the very special "Green" award. Lexus and Chevy won for Best Overall Luxury ad and Best Overall Non-Luxury ad, respectively. Toyota Tundra won for Most Effective ad, and Hyundai Veracruz won for Most Effective New Nameplate Launch.
It was all incredibly moving. And then Nardelli started dispatching the neologisms.