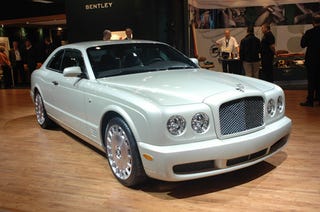 Let's just get this out of the way up front so you can come back later: Bentley brought no new luxurious nor mega-costly glistening sheet metal hand-rubbed to a burnished sheen by ambidextrous master craft-rubbers at their lush production palace factory in Crewe, England. Instead, at this New York Auto Show they touted their new partnership with an atmospheric molecule of fraught reputation: CO2. They thoughtfully provided me with a 17-page outline of how they're going to change the relationship between high-performance 12-cylinder engines and global warming. I'm halfway through it and will return later with a summary. But until then, let's talk about those hawt English accents.


Oh, yes, the same damn thing happened at the Rolls-Royce press conference at the Detroit Auto Show. A highly competent looking man of British descent stood up and said things, not new things, but things that were full of confidence and self-assurance. With BBC-caliber diction. Nice.
Bentley has three vehicles here in the City That Never Sleeps but would probably be perfectly happy to sleep in a Bentley, if the opportunity arose. We saw the GT Speed, the friskily monikered Continental Flying Spur, which ought to fly with a V12 under its aubergine hood, and the Bentley Broadlands cou-pay, in opalescent pearl. Yes, they are all gloriously beautiful and sumptuously appointed.
However, according the company, beauty plus brawn does not necessarily satisfy all the needs of the finicky Bentley customer. No, the members of that elevated tax bracket (or lack thereof, Monaco Bentley owners!) want an alternative-fuel strategy from the brand. And the brand does not intend to disappoint.
"The consequences of climate change cannot be ignored," intoned Stuart McCullough, Bentley board member and master of sales and marketing.
I'll break it down for you and see if it makes sense. Seventeen lousy pages—how long can it take?