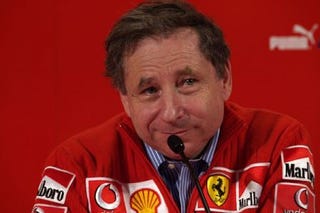 Reuters is reporting Ferrari Chief Executive Officer Jean Todt resigned on Tuesday and will be replaced by General Manager Amedeo Felisa. The company's issued a statement, but since we can't actually read Italian, we thought it best to go with the Reuters report. As many know, Todt headed Ferrari's Formula One team when the Italian carmaker won six straight constructors' titles between 1999 and 2004 with driver Michael Schumacher. In 2006 Todt became CEO of the Maranello, Italy-based luxury sportscar builder. Although Todt said he had wanted to stay at Ferrari while Chairman Luca Cordero di Montezemolo was chairman of Italy's employers body. Now Montezemolo is back at Ferrari Todt said he could "dedicate more time to myself and the things I'm interested in". We're assuming the things he's "interested in" do not include running the whole show at the prancing stallion brand.
Todt will remain a board member as well as chairman of Ferrari Asia Pacific and Ferrari West Europe. He will also be charged by Montezemolo to carry out special assignments for Ferrari's racing operations, the company said.
Felisa, 62, joined Ferrari in 1990 and was named general manager two years ago.