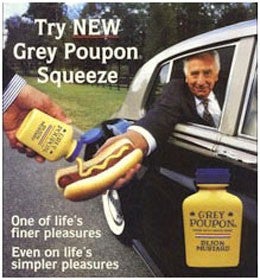 Whew! We're winded, spent, knackered etc. after the rollicking goodness that was Maximum Wagon Day. And yet, there's still work to be done. Like selecting the Commenter of the Day. Turn the page, as it were, and behold the glory of spicy French spreadables and the wagon-licious wit of the commenters.
Our champion today hails from the Aston Martin Lagondawagon post. The quip, from htrodblder was simplicity itself:

Is this how Grey Poupon is delivered?
By god, yes. And if we had any to share, we'd do so.