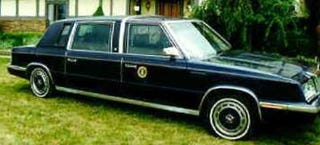 If you're like us, you're working on President's Day (what would Taft think?). While there is much of the presidential life that interests us, we're most consumed with the thought of the massive transportation fleet at your disposal: planes, boats, helicopters and cars... oh so many cars. Presidential limousines have ranged from the sublime (Kennedy's drop-top Continental) to the benign (Nixon's K-Car limo), with all manner of extended rides in between. It has us wondering what we'd feel comfortable driving down Pennsylvania Avenue.
On one hand, nothing speaks to the opulence of a world superpower like a Maybach 62 Landaulet. But that's a German car and the open top makes us a bit nervous. Though Japanese, nothing would signal our commitment to the environment more than a Prius Limo. And how do you top a 6-wheeled Olds Toronado Limowagon?
Since the boss is probably making you work or your professor making you go to class on President's Day, this holiest of American holidays, feel free to take some time to share the details of your ideal fleet. We won't tell.