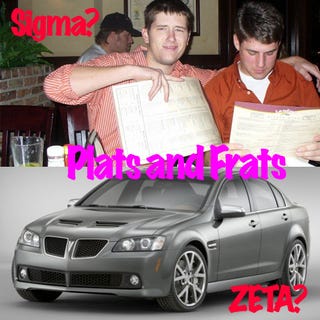 As a proud graduate of the University of Texas, there was a time when I knew all the letters of the Greek alphabet and all the fraternities and sororities that corresponded to them. There was also a time when I thought I knew all of the GM platforms and their associated Greek letters. Recently I've noticed that I'm getting the two of them confused. Is a Sigma the midsized RWD platform underpinning the Cadillac CTS, a drunken frat boy with strong opinions about his southern heritage, or both? Below our guide to GM Plats and College Frats (and Sororities).
Alpha: A future GM midsized RWD platform for Pontiac, Cadillac and Buick.
Alpha Chi Omega: The cute, smart sorority girls who made you rethink your policy of not dating sorority girls.
Alpha Phi: The reason why you stopped dating sorority girls.
Delta: The small FWD platform underpinning the Chevy HHR and Pontiac G5, among others.
Delta Delta Delta: Cute but ditzy girls that were parodied very well on SNL. Notable alums include Katie Couric.
Epsilon Midsized FWD platform that in extended form is the basis for the new Chevy Malibu and Saturn Aura
Sigma Epsilon: If these rowdy frat boys haven't been kicked off of your local college campus it's not for lack of trying.
Gamma: Subcompact FWD platform used mostly in Europe for models like the Opel Corsa.
Gamma Theta Upsilon: GTU is the Geography honors society. Members of the GTU generally don't have a good chance of scoring with Tri-Delts. I am a GTU member.
Kappa: Compact RWD architecture found under the Pontiac Solstice/Opel GT and Gary Coleman's Saturn Sky.

Kappa Kappa Gamma: The elite of the elite private school girls who, when they get rush lists, actually send people out to see if your house is big enough to warrant admission into their ranks.
Lambda: The mid-sized FWD/AWD crossover SUV platform that will support the new Chevy Traverse as well as the current Buick Enclave, Saturn Outlook and GMC Acadia.
Lambda Chi Alpha: Exceptionally non-threatening. The guys you call when your drunk boyfriend from a different frat leaves you on the side of the road.
Theta: Midsized crossover SUV platform used for the Saturn VUE and Pontiac Torrent.
Mu Alpha Theta: That's the high school math club. What the hell are you doing at a college party? Oh, Rick's your brother. Cool. Want another Corona?
Zeta: The RWD platform that will support the next generation Impala and Chevy Camaro, as well as the new Pontiac G8 and any possible US-bound -aminos.
Zeta Beta Tau: Good Jewish boys who all dream of growing up to be a part of the media elite that runs the automotive web.