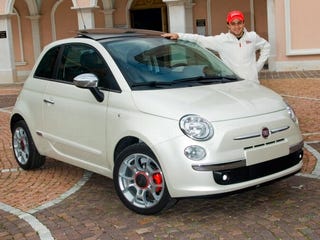 A wise man once said, celebrity endorsements are the life's blood of useless crap. Of course, whoever that man is, he's looking somewhat less wise today. Despite Ferrari driver Felipe Massa's recent acceptance of a celeb-tuned Fiat 500 in Monte Carlo, all signs indicate it's a pretty damn nice car that'll likely help sustain Fiat's march toward corporate health. Massa's personal swag gets a special 1.4-liter four tweaked by tuned by Fiat Powertrain Racing to produce 120 hp (instead of the base 100), and comes with his signature embossed in the sill scuff plate. No word on limited-edition model based on this, though Fiat's massive accessorization program means Eurowide buyers can go nuts with the add-ons. Still, those looking for more horsepower will likely opt for Abarth-tuned models.
Press Release:
A 120 bhp Fiat 500 for driver Felipe Massa

Today at Monte Carlo (Monaco), Felipe Massa was presented with a Fiat 500 powered by an exclusive 1.4 litre, 120 bhp engine and personalised with unique graphic details, such as his signature embossed in the sill scuff plate.

With Pearl White paintwork and interior trim in brown Cordura, the supermini given to the Scuderia Ferrari driver is, of course, the Sport variant, with a Skydome electric sunroof, 16" diamond alloy finish and red brake callipers.

What really sets the car apart, however, is its lusty 1.4 16v engine with a power output raised to 120 bhp by Fiat Powertrain Racing, the FPT (Fiat Powertrain Technologies) division responsible for the design, research, development and production of engines for competition use, performance kits for petrol and diesel units and, lastly, special engines for limited edition models.

So a distinctly sporty Fiat 500 for the charming, talented Brazilian driver who picked up six pole positions and three wins (Grand Prix of Bahrain, Spain and Turkey) last season, finishing in fourth place and contributing significantly to Ferrari's Constructors' title and to team mate Kimi Räikkönen's World Drivers' Championship victory.

This major sporting achievement is reflected perfectly in a car that has garnered numerous prestigious international accolades, such as "Car of the Year 2008", "EuroCarBody 2007" and "Auto Europa 2008". This is why the Brazilian driver and the Fiat 500 are so well matched, as the sporting and personal attributes of Felipe Massa are echoed in the character of the Fiat 500: a car that is lovable and unconventional, yet innovative and successful.