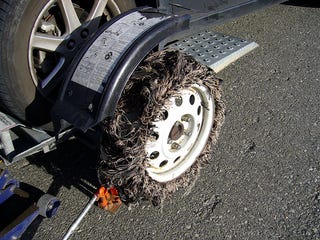 I was more than sure that tires capable of sensing low air-pressure and flats already existed—either digitally or by the tilted axis. Reuters seems to think otherwise and is reporting on a new "smart tire" being developed by researchers at Purdue University.
How Purdue is reinventing this bit of wheel technology is by inventing a way to turn the entire tire into one big, rolling sensor, rather than having a single sensor in each tire. Having a layer of sensing material allows for anything from "cuts, punctures, manufacturing defects, imbalance, degradation and improper mounting" to be always analyzed and addressed if necessary.
Gary Krutz of Purdue's Electrohydraulic Center compared the tire to doughnut (because that has never been done before...) says that "if you poke it anywhere, like with a nail, we can tell you where it is at and that you poked it." How that relates to a doughnut still confuses me, though.
The target audience for the tires initially would be race cars, due to the nature of the tire use and how expensive those tires can be, but I'm sure truckers, AutoX drivers and drifters are listening as well.
If it reaches the consumer level, the estimated cost would be and additional $50 per tire. [Reuters]
(Image via plaxo)