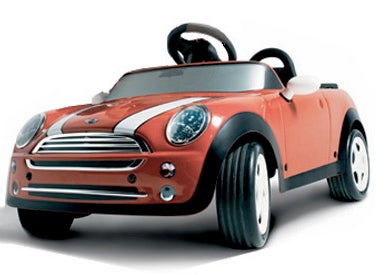 This one's for the kids, though we'd imagine Santa might have a hard time carrying this one down the chimney. If you're greatest aspiration is to turn your son/daughter/neice/nephew into an anglo-autophile, a good first step might be to buy them this battery-powered Mini Cooper Convertible. For Just $350 you can have your little one outpacing and outclassing the neighbors and their boring F-150 Powerwheels. Throw in some leather gloves and an open-faced Helmut helmet and you'll have a little Paddy Hopkirk. Product details below:
BATTERY POWERED MINI CONVERTIBLE
Single-seater with forward and reverse gears, adjustable seat and maximum speed of approximately 2.5 mph. Batteries (and charger) included.
For children ages 3 to 5 and complies with ASTM/F963-96a. [Source: MINI MOTORING GEAR]