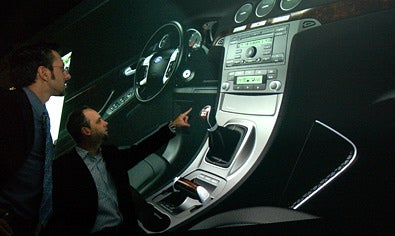 Ford shocked the auto industry today, announcing that they would be hiring elves to redesign new products for the company. The elven economy has been suffering due to mechanization at the North Pole, which has put many elves out of work. Actually, none of that is true (as far as we know, Mark Fields might be hiding horrible secrets). Ford designers have been using computer imaging technology to digitally create vehicles, cutting back on the time it takes to create new designs... yada yada yada. Can you come up with a funnier caption than us? Full press release below the jump:

FORD FURTHER ACCELERATES PRODUCT DEVELOPMENT WITH INDUSTRY-LEADING TECHNOLOGY TO SPEED DESIGN PROCESS

DEARBORN, Mich., Dec. 11 - High-resolution animations, life-size presentation screens and virtual cars that come to life with a click of a mouse: No, this isn't Walt Disney or Pixar studios but rather is the state of the business inside Ford Design studios.
Faster, sharper and with higher quality, the latest digital design tools are being utilized by Ford designers to further accelerate future product development - and reduce costs.
"The capability of the advanced design technology has transformed the Ford team into a powerhouse of digital designers, helping expedite Ford's product development," said Peter Horbury, Ford's executive director of Design for the Americas. "In the nearly four years since I arrived in Dearborn, we've made great strides from a conventional design team modeling many full-size clays to becoming a team that is also versatile and efficient at designing digitally."
That's been a passion - and a vision - of Horbury's, in part, because digital tools bring more flexibility to the design process. Designers, engineers and executives around the globe can simultaneously review many different high-resolution product design iterations - in any color, lighting condition or setting - without having to invest weeks developing many clay models.
Horbury estimates in the past it would take approximately six weeks to transform a sketch into a
full-size model. With advanced digital tools, however, Ford designers have dramatically decreased development time to approximately two weeks to complete the same process - a savings of nearly 70 percent.
The digital design revolution began in 2005 when Horbury and his team began integrating new software to revolutionize the process from the largely traditional hand modeling to a more efficient digital process. Although extensive progress has been made with the new digital procedures, this isn't a story about the elimination of clay modeling, says Horbury; it's about creating a more cooperative relationship between traditional and digital design methods.
Beyond Flat Screens
Forget the flat screens; Ford designers are using impressive digital high-definition (HD) screens, known as powerwalls, to view life-size digital vehicles with extreme detail.
Several screens have been installed in Ford design studios around the globe, accelerating the globalization of product development at Ford Motor Company.
Powerwalls use HD rear-screen projection to enable review and refinement of full-scale computer-rendered vehicle designs prior to fabricating physical properties in foam, clay and fiberglass.
The technology also has made the review process more compelling and detail-oriented. The photo-realistic computer-rendered images rotate and show driving dynamics in realistic lighting, from any angle and in lifelike detail. Colors and reflective surface textures in vehicle interiors can be changed with a click and exterior views are equally eye-popping with close-ups.
Early implementation of the current technology was used in the development of Ford's 2009 model year vehicles including the new Lincoln MKS luxury sedan.
The centerpiece of Ford's new powerwall facilities is the Electronic Design Presentation Room at Product Development Center in Dearborn, which features a 60-foot-wide wall that accommodates three 20-foot-wide vehicle or technology projections simultaneously.
"The Electronic Design Presentation Room is the pinnacle of powerwall technology," said Jeff Nowak, chief designer, Digital Core Team. "The facility provides an effective forum for group discussions and executive reviews that are difficult to do over a 20-inch computer monitor. The reviews are more thorough, and we're able to deliver even better designs as a result."
Bringing Design to Life
Ford's modeling team now includes digital sculptors as well, bringing sketches from ideation to full-size models using some of the most advanced software.
To animate designs and allow vehicles to be imported into a variety of environments, simulating natural sunlight, reflections and real-life locations, Ford Design uses the software program called Udrive developed by Bunkspeed. This software is unique because with just a few clicks of the mouse it allows designers to review one of the most crucial viewpoints of a vehicle - seeing it in motion, with light and shadow playing across the simulated sheet metal.
One of the newest software programs, HyperShot, produces real-time renderings that instantly replicate the effect of light rays on the vehicle. Using high-dynamic range image technologies to gather lighting, reflection and shadow properties, HyperShot produces images that look as precise as a photograph. This dramatically speeds up the rendering process by having the designer focus on the materials and position of the product, instead of all the technical aspects, such as lighting it.
Smarter Research
The new digital technology is not only accelerating the design process but also the way Ford is conducting market research. During the past year, Ford's market research group has began moving away from using physical models when conducting consumer clinics and instead utilizing the precise, high-quality renderings for consumer reviews.
This new process saves time and resources in producing, transporting and conducting research while offering the added capability to review more data with consumers. Although physical models are still necessary for some market research, digital presentations allow designers to modify designs on-site adapting instantaneously to consumers' feedback.
"At this point in our design transformation, we've been very pleased with the flexibility our digital process has brought for the entire Ford Product Development team, and the cost savings has been significant," said Horbury. "We're continuing to make advancements each day, and I look forward to the day when we can virtually design even more of the product development process." [Source: Ford]