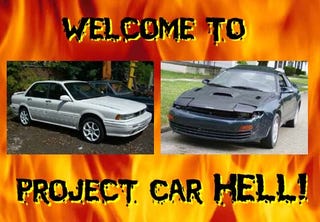 It turns out that nearly 60% of readers surveyed prefer a '58 Bel Air to a yellow Corvette when they're contemplating a Tom Waits-themed eternity in Project Car Hell. And, now that Romeo is done bleeding, let's take a look at today's Choose Your Eternity candidates. We have a tough time finding Japanese cars that are both sufficiently cool and hellish enough for this series, but today we've managed to find a couple cars from Nippon that get the job done. They're turbocharged, they're all-wheel-drive, and they've probably had the crap beat out of them by previous owners. Thanks (and a Project Car Hell Tipster T-shirt) to Schnog for the tip!


Celicas with All-Trac AWD and turbocharging are a blast to drive, but they're quite rare- you'll need to drop close to ten grand for a nice one. But you're a barbarian with a wrench in your pocket, and you know you can save a bundle by starting with an All-Trac that needs a little bit of work. Say, this 1991 Celica All-Trac, for example; while we don't know the reserve price, it's only been bid up to $1,200 at the time of this writing. The seller says "the olny thing wrong with it is it needs a shift control cable, and the bolt for the front sway bar," so there ya go! A few body parts, a little elbow grease, and it'll be good as new!

Toyota, Toyota, Toyota... sure, they're well built and reliable and all that, but everyone's got one! That's why you're a Mitsubishi sort of masochist aficionado, so you can stand out from the crowd. Yes, from the Zero all the way up to this 1991 Galant VR-4, the triple-diamond logo has meant "quality" for decades. This car has the same 4G63 engine and powertrain used in the Talon/Eclipse, but the wrapper is total stealthy sleeper, and this example looks pretty clean in the photos. What fun you'll have with it... once you get it running right, of course. According to the seller: "NOW FOR THE BAD THIS CAR WILL NEED A NEW FUEL PUMP CAR DOES RUN AND DRIVE BUT ONCE U HIT BOOST IT CUTS OFF THE COMPUTER IS THROWING A FUEL PUMP CODE," which means you'll have some fuel-system woes, starting with the fuel pump and ending... well, that's why it's Project Car Hell!