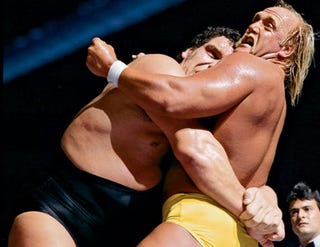 First off, the McLaren F1 JFG is a cornucopia of really fantastic comments. So if you haven't browsed through them, you oughts to do so. But the winning Commenter did not come from there. As you may have guessed, it came from the Hulk Hogan gets a divorce posted by the ever vigilant Hardigree. Normally we'd regale you with tales of waking up early on Sundays as a pup in order to catch Hillbilly Jim battling Big John Stud, but we've gotten so fat lately that we're on a juice fast diet and our brain is beginning to suffer. Lets get this over with (jump).
We notice that at least once a COTD some of you howl that Polar was robbed. Please trust us, we know how good the guy is. Need proof? Check today's gem:
The Hulkster's days of the three demandments are over brother!

She'll get the benchpress, the vitamins, and the bible.
Now, if you'll excuse us, we're going to go off the top rope right onto a double cheeseburger.