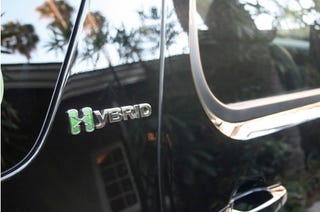 The General is very happy to announce that it'll be exporting some of its two-mode Tahoes and Malibu to the Middle East; the Middle East is happy to announce that it doesn't want them and is sending them back (j/k). The Dubai Roads & Transit Authority will be taking possession of the vehicles to use as fleet cars and cabs as part of a test program. The great thing about hybrids is they only slow our dependence on oil in the Middle East, making sure we'll care about them forever. We're actually not being fair to Dubai, which only receives less than 3% of its annual revenues from natural gas and petroleum. The hilarious press release below the jump:

General Motors and Government of Dubai to Bring Hybrids to the Middle East
Dubai, UAE - General Motors and Dubai Roads and Transport Authority (RTA) announced today an agreement for an evaluation program that will bring hybrid vehicles to the Middle East. The agreement, which includes a comprehensive local market evaluation of GM's all-new Chevrolet Tahoe Two-Mode Hybrid and the all-new Chevrolet Malibu Hybrid, could eventually lead to one of the largest fleets of hybrid vehicles in the world.
The accord is groundbreaking because it demonstrates the common goal of General Motors, Dubai RTA and the Government of Dubai to reduce their impact on the environment - even in a region that is rich in oil-resources.
The agreement was signed by His Excellency Matar Al Tayer, Chairman of the Board & Executive Director of the RTA and Terry Johnsson, President of General Motors Middle East Operations, in the presence of Engineer Essa Al-Dosary, CEO Public Transportation Agency, Engineer Abdul Aziz Malik, CEO Dubai Taxi, and a number of department directors and officials from RTA and General Motors.
Maureen Kempston Darkes, GM Group Vice President and President of GM Latin America, Africa and the Middle East said, "We are honored that Dubai RTA selected the all-new Chevrolet Tahoe Hybrid and Malibu Hybrid for this program. This is further evidence that our environmental strategy goes to markets all around the world - and is truly a global effort to reduce emissions and develop sustainable transportation. These advanced technology vehicles are leaders in their automotive segments and selecting them is testimony to the visionary leadership of the Government of Dubai.

His Excellency Matar Al Tayer said that this initiative comes in implementation of the directives of His Highness Sheikh Mohammed bin Rashid Al Maktoum, UAE Vice President and Prime Minister and Ruler of Dubai to seek a safe, clean and attractive and sustainable environment that lives up to the reputation and prestige of the Emirate. It also comes in the framework of RTA's commitment to protect life and property, preserve the environment and natural resources, improve standards of occupational health and public safety, and implement all the necessary technologies to reduce noise levels caused by means of transportation.
The GM-RTA agreement calls for the provision of a small fleet of Chevrolet Tahoe and Malibu hybrids that will be used as limousines and taxis by RTA on the roads in Dubai. The program will last one year, beginning in January 2008. General Motors will provide technical training on safety and other aspects for 15 RTA technicians, along with training for 40 drivers of Dubai Taxi. During the program, GM and the RTA will work together to validate the vehicles for use and serviceability. The intent is for the Dubai RTA to consider the Chevrolet hybrids for its fleet plans scheduled for early 2009.
###