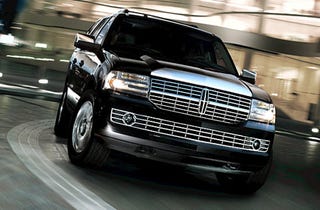 Common is the latest in a long line of rising or falling (ahem Flex) hip-hop stars to endorse an SUV, in this case the 2008 Lincoln Navigator. There's generally nothing wrong with a rapper, even a conscious rapper, marketing an SUV. Mos Def once marketed a Denali and, you know what, the world didn't end. But there's something about this that bugs us. Common constantly shills for PETA and is now marketing a product that's more cow than steel? Let's hope he selects the faux-leather option. Full press release after the jump.
LINCOLN'S RESURGENCE STRENGTHENED WITH NEW MARKETING ALLIANCE WITH HIP-HOP ARTIST COMMON
* Hip-hop superstar Common joins with the Lincoln brand to promote the 2008 Navigator model line.
* Partnership will feature multiple levels of advertising, marketing and promotional activities between Lincoln and Common's wide-ranging businesses and his community service program.
* The Lincoln brand, just like Common, has experienced tremendous success over the past year and the joint marketing initiatives will help reach out to new audiences for both.
LOS ANGELES, Calif., November 12, 2007—Lincoln, the resurgent American luxury brand, announced today a multifaceted marketing partnership with a rising star and Grammy Award-winning performer Common to promote the 2008 Lincoln Navigator and other brand initiatives.
"Lincoln is excited to be associated with Common because his success story is gaining momentum at the same time that ours is," said Mike Richards, general marketing manager for Lincoln. "Common has earned many accolades for his talents, yet he remains grounded and maintains a confident, unique style all his own. Lincoln shares these brand qualities and it makes us proud to have Common represent Lincoln and increase our brand appeal among consumers."
Through an exclusive partnership with Lincoln, Common will appear in national television broadcast, radio and print advertisements, primarily focused on the all-new 2008 Lincoln Navigator. The first of the ads, titled "Common," will debut nationwide November 25 during NFL Sunday Night Football on NBC, and later appear on general market and urban schedules. The commercial spotlights the people, places and experiences that shaped his life in his hometown of Chicago. It segues to his present-day life as an enterprising, multitalented individual, continuing to reach higher, yet still deeply rooted in his community. His understated confidence, authenticity, and distinctive sense of style echo the personality of the Lincoln Navigator. The print and radio ads will premiere in 2008.
Lincoln will additionally work with Common in developing other online and offline cross-promotional and marketing programs across his diversified businesses, including the licensing of songs for creative executions for television and the Web, tie-ins with Common's books and hat lines, as well as alignments with his concert tour. Common will also perform and make personal appearances on behalf of Lincoln at auto shows and dealer events, and be an integral component of the annual multiple-city Lincoln Lounge events.
Lincoln also plans to align itself with Common's nonprofit organization, the Common Ground Foundation, and will sponsor the first annual Start the Show n' Bowl fundraising event to be held February 2008 during Grammy weekend.
"I am very enthused and honored to connect with Lincoln,"said Common. "I believe that this union will be creative, fresh, and classic. Most importantly, it's a way for Lincoln and me to give back to the community and people in need."
About Lincoln
Award-winning new products are behind the resurgence of the Lincoln brand. The Lincoln MKX crossover, Lincoln MKZ sedan, and Lincoln Navigator have helped the brand achieve 13 months in a row of higher retail sales, for a total sales increase of 14-percent for the year.
The Lincoln Navigator received critical acclaim upon its redesign for 2007, winning Ward's AutoWorld "Interior of the Year" award in the premium truck segment. For the 2008 model, which is arriving in dealers now, Lincoln has improved the interior even further with the available Limited Edition model featuring two-tone leather seats finished with a black piping. Also, now coming as standard equipment on Navigator are the award-winning THX-II Certified Audio System, the class-exclusive Powerfold third row seat, power liftgate, heated and cooled front seats, and SIRIUS satellite radio.
The Lincoln MKX, the brand's first crossover and segment winner of AutoPacific's Vehicle Satisfaction Award, is designed to appeal to a new generation of luxury customers. It features a luxurious car-like ride, all-wheel drive capability, a powerful and fuel efficient engine, and it has been recognized by the Insurance Institute for Highway Safety as a 'Top Safety Pick.' The Lincoln MKZ, mid-size luxury sedan segment winner of the J.D. Power Initial Quality Survey (IQS), features a powerful 263-horsepower 3.5-liter V-6 engine and is available with all-wheel-drive. The Lincoln MKZ has also been recognized as an "Interior of the Year" award winner in the premium sedan segment by Ward's AutoWorld.
The 2008 models are currently available in Lincoln dealerships nationwide. For more information on the Lincoln products, please visit www.lincoln.com.
About Common
Common rose to prominence as one of hip-hop's most poetic and respected lyricists. On July 31, 2007, he released his critically acclaimed seventh album, Finding Forever, which debuted at #1 on the Billboard 200 Album Chart and went on to earn him both CD of the year and lyricist of the year at the 2007 BET Hip Hop Awards. He made his big-screen acting debut in the 2007 action film Smokin' Aces. His sophomore effort, American Gangster with Academy Award winners Denzel Washington and Russell Crowe, opened #1 at the box office when it was released nationwide on November 2, 2007. His upcoming screen appearances will be in Wanted with Morgan Freeman and Angelina Jolie and The Night Watchman with Forest Whitaker and Keanu Reeves.
Additionally, Common launched a career as an author of children's books. The first, The Mirror and Me, teaches lessons of life, the human spirit, and human nature. His follow-up book, I Like You But I Love Me, was recently nominated for an NAACP Image Award. He also started The Common Ground Foundation, an organization dedicated to utilizing the cultural relevance of hip-hop to serve as an advocate for justice, education, to fight poverty and to increase health awareness among youth in underserved communities throughout the United States.