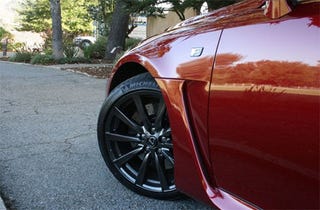 Why You Should Buy This Car:
Lightning-fast acceleration, massive globs of handling and most likely the finest brakes we've ever stomped. World-class performance from an unlikely source, and that equals stealth. The eight-speed transmission means even with performance on par with the competition, you 'll get better fuel efficiency. The (expected) price will undercut the competition, big time. In certain situations, when the road is just right, the paddle shifters are outstanding. White leather seats are high on my list of "likes." They should be high on yours, too. The stereo is out-of-control good and then engine sounds even better. You can amuse yourself for hours as the voice recognition system misinterprets every other word out of your mouth. Did I mention the brakes? Yes, they are that good.
Why You Shouldn't By This Car:
As hyper-good as the IS-F is, it doesn't electrify the driver the way an Audi RS4 does. The Lexus is like sticking your fork in a 110 volt socket; the Audi, 220. The IS-F jumps through every hoop and excels at every trick, but you just don't feel as much of the car as you should. Logically, I understand paddle shifting and all the benefits contained therein, but emotionally I'm left lusting for a proper manual. You have to open the sunroof to hear the glorious engine and serious hoons hate sunroofs. And forget cracking the window, as an IS design flaw is the blast of wind noise in the ear that accompanies said action. Ugly, fake tail pipes. No one that digs factory tuners cares that you're driving a Lexus.
Suitability Parameters:
Speed Merchants: Yes
Fashion Victims: No
Treehuggers: No
Mack Daddies: No
Tuner Crowd: Yes
Hairdressers: No
Penny Pinchers: No
Euro Snobs: No
Working Stiffs: No
Technogeeks: Yes
Poseurs: Yes
Soccer Moms: No
Nascar Dads: No
Golfing Grandparents: No
Also Consider:
· Audi RS4
· BMW M3
· Cadillac CTS-V
· Mercedes-Benz C63 AMG
Vitals:
· Manufacturer: Lexus
· Model tested: IS-F
· Model year: 2008
· Base Price( est): $59,995
· Price as Tested: n/a
· Engine type: 5.0-liter V8
· Horsepower: 416 hp @ 6,600 rpm
· Torque: 371 lb.-ft. @ 5,200 rpm
· Red line: 6800 rpm
· Transmission: 8-speed "direct shift" automatic
· Curb Weight: 3,774 lbs.
· Tires: Michelin Pilot Sport Cup II
· Drive type: RWD
· 0 - 60 mph: 4.6 Seconds
· 1/4-mile: 13.0 seconds
· Top speed: 170 mph (electronically limited)
· Fuel economy city/highway: 17/23
· NHTSA crash test rating: N/A
Jalopnik Reviews
All of our test drives in one convenient place.