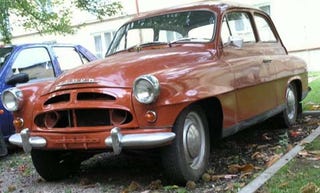 Once again, our Czech tipster BobAsh has come through with the Skoda goods for us, this time in the form of a bunch of shots of a Skoda 440 (also known as the Spartak) from the mid-to-late 50s. Since BobAsh was kind enough to write a lot of description, thus sparing my lazy ass from having to, you know, do work, we'll hear the rest in his own words:

When I went car-hunting in my neighborhood yesterday, my attention was grabbed by something familiar looking in the shade of a tree. At first glance I thought it was an old Skoda Octavia, but when I came to have a closer look, it turned out to be something even older and a bit rarer.
Skoda 440, also known as Spartak - the name couldn't be used because of possible confusion with similar named Dutch motorcycles Sparta - was made between 1954 and 1959 and during that time it was basically the only automobile that average Czechoslovakian could buy.

It was powered with mighty, 40 horsepower and 1089cc four-banger driving of course rear wheels, it seated four people in a little bit crammed interior and it's most comfortable equipment was probably a heater. But in its time and class, it was a pretty good vehicle, one of the last competitive cars from Czechoslovakia. For a brief moment, Skoda tried to sell these cars even in the States, but even though the reviews were positive (like one in 1957 Motor Trend), this venture wasn't very succesful and lasted for just a short time.

To me, the Spartaks and Octavias will alwas have great sentimental value, because my first car happened to be a 1959 Skoda Octavia. It was very first year for Octavias and the underpinnings were still pretty much identical with Spartak, including one transversely mounted leadspring in the rear (later Octavias had conventional twin longitudally mounted ones), so main difference between this Spartak and my former Octavia is front fascia and the dash. The coolest thing about the car was that the old man, who sold it to me for 1500CZK (about $50 at the time) was the first owner. In 2001, which means 42 years in a row.

I don't think I'll ever own another car owned by a single person for such a long time, and I was so foolish I sold it after some two or three months. I got more than three times more than what I paid for it, but it was still a very bad deal. And I'll never forget one day, when I've done my first powerslide ever in it, on a wet cobblestones, at the old town square in my hometown. I went some 20mph, maybe less, but that thing had so little grip that it was possible to drift it even with that weak powerplant. I think that this car really cemented my love to the RWD cars...


Oh yes... and BobAsh doesn't just drive Czech iron. He's a Mopar Man now! In his words: By the way, this is what will fry me for many upcoming months. '68 Dodge Coronet 440 with 318 engine. Ugly on the outside, but solid and great to start the "Project Hippie Hot Rod" ('68 Super Bee clone with Mod Top and 5.7 Hemi, if everything goes well).

Holy crap! A Super Bee clone in the Czech Republic! As we keep saying, Jalopnik readers go far, far beyond just talking the talk. Keep up the good work, BobAsh!