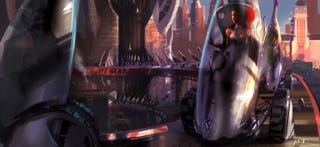 Yet another prediction of dense population and saturated roadways in 2057 guides Volkswagen's design brief for its Slipstream concept. V-dub's Design Los Angeles entry is a two-wheeled, teardrop shaped pod that can tilt upward to occupy one-fifth the space of a normal car. Most notably, the Slipstream will ride on a special freeway lane, allowing the solar-powered vehicle — resembling an electric toothbrush with the head detached — to reach speeds in excess of 250 mph. And, naturally, that means a titanic municipal boondoggle could in the offing for the late 2040s. But all the bond-issue and construction headaches may work to motorists' favor, considering the Slipstream's potential to hearken a new era of personal, high-speed travel. And a desperately lonely populace. [Design Los Angeles]
Press Release:
Volkswagen Concept Slipstream
In the year 2057, population centers have become unimaginably dense and the roadways have reached the point of total saturation. Volkswagen's solution is an advanced autonomous vehicle that dynamically adapts to minimize its footprint in the city and its drag coefficient on the highways.
When in the city, these two-wheeled, teardrop shaped pods travel in an upright orientation that occupies one fifth the size of a traditional vehicle. When on a special freeway lane called the "Slipstream," it tilts to a horizontal orientation optimizing its aerodynamic shape. Rear fins slide out to allow the rear of the vehicle to float like the tail section of an airplane to achieve speeds in excess of 250 mph.
The skin of the vehicle is made of hyper-efficient solar panels that power the vehicle.
Volkswagen/Audi Design Center California
Design Team:
Ian Hilton
Derek Jenkins
Patrick Faulwetter