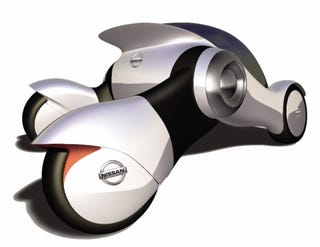 When do you know it's the year 2057? According to the Nissan designers who rendered the OneOne concept for Design Los Angeles, it's when cars become pet-like. Alternative kibble power, you ask? Well, no. But, to quote the intro text, the OneOne is a "friendly, helpful member of the family of the future." The name alludes to the way many Japanese describe the sound of a barking dog, and the car's apparently equal parts robot as passenger car. Guided by a real time GPS network, the OneOne is a vehicular Rosie the maid (remember "The Jetsons," kids?), shopping, picking up dry cleaning and getting the children home from school. A special GT model adds such features as complaining about its bitchy Qi Gong instructor, taking a few too many cocktails in the afternoon, and having an affair with the neighbors' Chevy Suburban. [Design Los Angeles]
Press Release:
Nissan OneOne, a Friendly Pet
In the year 2057 robots have become an integral part of our lives blurring the line between humans and machines. The Nissan OneOne is the ultimate pet; a friendly, helpful member of the family of the future. OneOne (pronounced "won-won," an endearing Japanese description of a barking dog) takes care of every aspect of the family's busy lives from retrieving dry cleaning and groceries, to tending to the children. Guided by a real time GPS network, OneOne can take the children safely to school, soccer practice and back home in time for dinner.
OneOne takes mobility to a new level. Using synthetic muscles in its "legs," it propels itself along by skating, much like you would on a pair of rollerblades. From performance car to city car, it lies down for speed or stands up for better visibility, allowing for more nimble navigation and easier parking.

OneOne fulfills every need from dutiful pet to spirited sports car in a design that makes it a welcomed member of the family.
Nissan Design America
Design Team:
Bruce Campbell
Doug Wilson
Robert Bauer
Bryan Thompson
Rie Arroba
Jeremy Malick
Laurie Tait
Matt Wilson
Soichi Maruyama