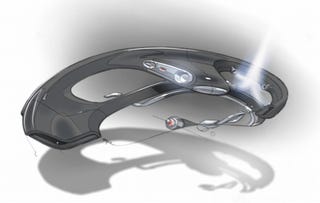 That's right, being it's October going on November, it's time for Design Los Angeles, where car companies answer a call for futurism with sci-fi craziness. This year, the call went out for robocars from 2057. And we'll be posting the entries throughout the day. First up is the Audi Virtuea, a car Audi designers say "combines artificial intelligence with avenues of self expression." That means its design can change to suit a particular momentary proclivity. It does it by eliminating that pesky material surface and replacing it with a holograph of a body style surrounding the outside. That way, drivers can change the car's looks on the fly, thwarting the police and confounding crooks by turning into a '78 Ford Granada in bad neighborhoods. We'll take it. [Design Los Angeles]
Press Release:
2007 Design Challenge Entry Summary: Robocar 2057
Audi Virtuea Quattro
It's the year 2057 and Audi continues to revolutionize through technology, offering a hydrogen-powered vehicle that combines artificial intelligence with avenues of self expression.
This single-seat, autonomous driving machine functions as a solid unit at its core, while providing a myriad of possible holographic exteriors stored in a library and accessible through the vehicle's interactive holographic interface.
Virtuea's holographic exterior provides a variety of possibilities, allowing the driver to select from the most innovative designs from one minute to the next. The vehicles image can now be proudly displayed without environmental impact as no physical materials are needed regardless of size.
Audi takes pride in introducing personal transportation that combines passion with intelligence, which not only positively affects the environment but your life as well.
Volkswagen/Audi Design Center California
Design Team:
Heather Shaw
Jae Min
Mattijs Van Tuijl
Karl Strahlendorf
Christian Schoen