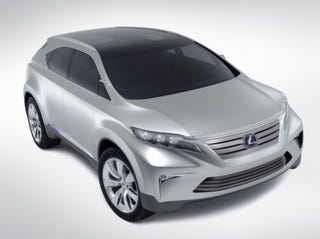 What happens when you cross the Lexus LF-A concept with an SUV construct? You get this specimen, the LF-Xh. It's a more utilitarian interpretation of the company's "L-Finesse" design philosophy, which combines harsh angularity with fluid, curvilinear surfaces, and the cold precision of modern motorsports with applications of traditional luxury tradecraft. At least, that's what we've ascertained from reading the press release until our retinas bled. This bit of style counciling will show up in Tokyo, and may hearken the next generation of Lexus's luxury people movers. It sure is a long way from the Chevy Blazer.
Press Release:
Lexus LF-Xh (Global unveiling)
A specialty SUV based on the Lexus design philosophy of L-finesse and equipped with an advanced hybrid system
- The combination of a powerful body and elegant interior gives this next-generation SUV a dynamic look and feel.
- Application of "Lexus Hybrid Drive", which features a sophisticated fusion of superior environmental and power performance, seeks to achieve outstanding driving performance, quiet operation, high fuel efficiency and low emissions.
- All-wheel drive is backed by a V6 gasoline engine and high-output electric motor hybrid system.
Total length: 4,800mm
Total width: 1,895mm
Total height: 1,650mm
Wheelbase: 2,850mm