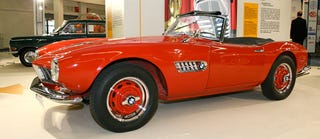 Hot damn! Uncle Bumbeck found this beauty in the "Old Timers" section of the Hot Dog Show. And I'm simply drooling. I especially dig how only German ragtops with half a century under their low-belts can pull off the wheels matched to body color look. Here's what the sign said:

1959 BMW 507
8 Zylinder V-Motor
3168 CCM
150 PS
190 km/h
Design Von Graf von Goertz
"BMW Mobile Tradition"

8 Zylinders for zee win, baby! Click through the gallery or we'll smack you.