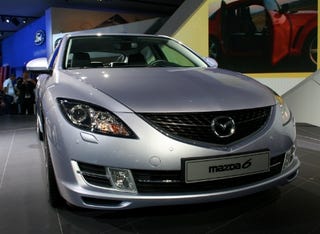 Mazda's new-generation, globally oriented Mazda6 may be the closest thing US buyers will get to the high design of Ford Europe, at least until the Taurus gets a makeover. (And even then.) It portrays the company's current attention to an aesthetic theme that pulls from nature, while staying true to a form most feel is the motoring equivalent of boiled root vegetables — the midsize sedan. Actually, it's just taken the bland-interesting mantle from the Toyota Camry. Give it a hand.
Press Release (partial):
Key Value One: EMOTIONAL AND SPORTY

Engaging styling and dynamic performance create a sense of delight and kizuna
(strong emotional ties) when the owner looks at or drives the new Mazda6.

Design
Chief designer Youichi Sato describes the design theme for the new Mazda6 as "Bold and Exquisite". The design is an evolved Zoom-Zoom form, which cleverly combines two seemingly contradicting ideas of strength and delicate grace through an expression of the Japanese aesthetic. While inheriting the 'athletic' design that was key to the signature Mazda look of the previous model, the new Mazda6 is yet a stronger statement of driving dynamism. Its designers also worked on a combination of playfulness and dignity to create a new expression of "cool", aimed at moving the Mazda6 to the top of its class. Youichi Sato states, "it is vitally important that the new Mazda6 confidently embodies a Japanese design identity.
And it must still look fresh in 10 years' time."

Advanced exterior styling based on Japanese aesthetics
The design theme, "Bold and Exquisite" is embodied in the new Mazda6's sporty styling that is sure to turn heads. "Japanese aesthetics give new Mazda6 its unique visual identity", says Sato. "Rather than being derived from traditional sculpted forms, it stands apart from its rivals by straightforwardly expressing the Japanese aesthetic sense to embody a new and advanced character."

The exterior has a unique character, expressed by the interplay of discreetly flowing curves and prominent edges from the front end through the fenders, and through the taut curves that lend richness and strength to the rear view. The door panel placed between the sharp top and bottom character lines convey an expression of beauty from simplicity. Then there's the exquisiteness of detail evident everywhere in the tsukurikomi (inbuilt quality). Combined, these elements of beauty create an advanced, emotion-pleasing character that could only be found in a Mazda.

As before, there are three body styles: hatchback, sedan and estate. The five-door hatchback symbolizes the new Mazda6's sporty and sophisticated nature with a flowing, coupé-style silhouette and a six side-window cabin design. The sedan plays down its three-box form with its tautly-arched cabin and short, high tail, giving it a fastback look clearly related to that of the hatchback. The estate version features three-dimensional curves that give volume and tension to the side and rear view to achieve a level of stylish design, rare in an estate.