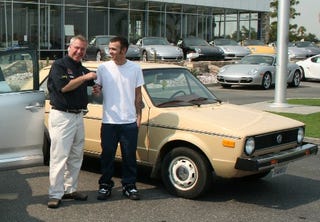 Volkswagen has located the oldest living Volkswagen diesel. No surprise it was found in California, near Bakersfield, where it wasn't forced to undergo the perfect storm of corrosive forces: road salt, humidity and Amherst students on a mescaline binge. The winning model is from the Rabbit's first model year in the US, 1977. It sports a 1.5-liter oil burner producing an achingly low 50 horsepower, though its curb weight was around that of a new Touareg's spare tire. The car's owner gets the use of a Touareg V10 TDI for six months, possibly for hoonage in the Mojave. The publicity stunt (ca-ching) hearkens the launch of the 2009 Jetta and Jetta wagon TDI diesels in the US in the first quarter of 2008. [via German Car Scene]
Press Release:
1977 Volkswagen Rabbit Recognized As Oldest Volkswagen Diesel
AUBURN HILLS, Mich. - Volkswagen of America, Inc. announced that, as part of its diesel heritage search, it has located the oldest operating Volkswagen diesel vehicle in America, a 1977 Rabbit owned by Clint Wilson of Tehachapi, Calif. The Rabbit was recently verified by Volkswagen of America and Family Volkswagen, a Bakersfield, Calif. based auto dealer.
"Diesel engines are noted for their long-term reliability and durability, so we didn't think it would be a problem to find a 1977 Rabbit that was still in great condition, like this one," said Steve Keyes, Volkswagen Public Relations Director. "The entries for the oldest (and the soon to be announced highest mileage search) not only represent cars that were well-built and well-maintained they are also interesting stories from people who are passionate about Volkswagens and diesel."
In recognition of owning the oldest Volkswagen diesel in the U.S., Volkswagen has provided Wilson with a new Touareg V10 TDI to drive for six-months. In addition to his 1977 Rabbit, Wilson also owns a Beetle that he is hoping to restore in the near future.
Volkswagen is a leader in the U.S. diesel passenger vehicle market with over 815,000 diesel vehicles sold since the 1977 Rabbit, the first U.S. Volkswagen diesel. In addition to the currently available diesel Touareg V10 TDI, Volkswagen has previously announced that the 2009 Jetta and Jetta Sportwagen, which will be available late first quarter of 2008, will be available with a clean diesel TDI engine.