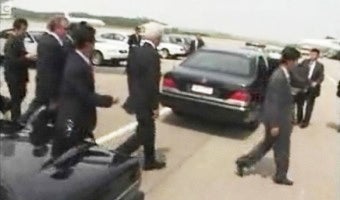 Former President Bill Clinton has dropped unannounced into sunny Pyongyang to negotiate for the release of two jailed US reporters. His choice of vehicle to leave the airport? A stretched Mercedes-Benz W140 worth over 100,000 Sally Struthers-like meals.
Clinton arrived in Pyongyang in an unmarked plane and was greeted at the airport by North Korea's chief nuclear negotiator Kim Kye Gwan and vice president of parliament Yang Hyong Sop.
Following the reception of a bouquet from a Young Pioneer, he proceeded to climb into a vehicle which certainly did not come on his plane—a monster W140, which you will recognize as the ride of choice for post-Communist gangsters.
http://jalopnik.com/5260774/thug-life-a-portrait-of-post+communist-gangster-culture-with-a-bad+ass-benz
Say what you will about Clinton, it must have taken chutzpah aplenty to sink into the belly of that beast. It is also curious fodder for reading the tea leaves of the Hermit Kingdom as the W140 does have a history in Communist countries—but that history is tied to the periods which followed the fall of their Communist regimes.
You can watch the Benz in motion at the BBC.
Photo Credit: BBC, KNS/AFP/Getty Images