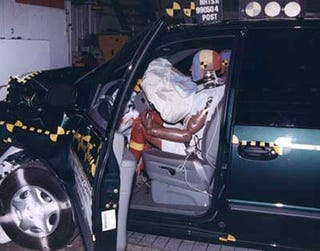 The Insurance Institute for Highway Safety performed a battery of tests on new SUVs and determined that in 20-mph crashes the following vehicles performed poorly in the area of neck restraint:
BMW X3 and X5; Buick Rainier, Chevrolet TrailBlazer, GMC Envoy and Isuzu Ascender; Cadillac SRX; Chrysler Pacifica; Dodge Nitro; Ford Explorer and Mercury Mountaineer; Mitsubishi Endeavor; Hummer H3; Hyundai Tucson; Jeep Liberty; Kia Sportage; Lexus GX470 and RX; Nissan Xterra; Saab 9-7X; Suzuki XL7; Toyota 4Runner and Highlander.
According to the IIHS, headrest failings lead to two million claims per year at an annual cost of $8.5 billion. Considering these types of vehicles are often heavy, clumsy and have more blind spots than Stevie Wonder's Synclavier, 20 mph collisions are common. All is not lost however; jump for the mixed news.
The following big boys all performed well on the neck test:
Acura MDX and RDX; Lincoln MKX, Ford Edge and Ford Freestyle; Honda CR-V, Element and Pilot; Hyundai Santa Fe; Jeep Grand Cherokee; Kia Sorento; Land Rover LR3; Mercedes M Class; Mitsubishi Outlander; Subaru B9 Tribeca and Forester, and Volvo XC90.
If trucks are your thing, we're sorry but all these were rated poorly:
Chevrolet Silverado 1500 Classic and the GMC Sierra 1500 Classic; Dodge Ram 1500; Ford Ranger and Mazda B Series; Nissan Frontier and certain versions of Ford F-150, Dodge Dakota and Mitsubishi Raider.
The only good truck of the bunch is the Toyota Tundra. Minivans are dangerous too, as all of these faired poorly:
Buick Terraza, Chevrolet Uplander and Saturn Relay; some versions of the Chrysler Town & Country and Dodge Caravan; and the Toyota Sienna.
As the Institutes's vice president David Zuby explains, "It's not a major feat of engineering to design seats and head restraints that afford good protection in these common crashes." For the record, we're with him. Carmakers, think of the children!
Crash test: Larger vehicles a pain in the neck [msnbc.com]
Related:
Kubica's 75Gs, and We Don't Mean Money; Breaking! Top Gear Presenter Richard Hammond In Car Crash [Internal]