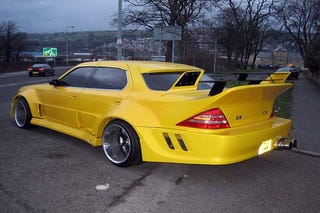 Most informed car buyers know, working the options sheet as if it were Vegas's Carnival World Buffet is the road to flash poverty. But check off those boxes judiciously and you'll save thousands and still get a car that won't leave you feeling like Cookie Jarvis at diabetes camp. But do you have to be an options teetotaler to achieve satisfaction. Check out MSN Money's list of eight options to avoid, and our take on each one after the jump.

MSN
1. Automatic stick shift
Jalopnik
Disagree. Hello? DSG? Do we have to go around like the pie'd piper to get people to try this stupid thing out?
MSN
2. All-wheel drive
Jalopnik
Partially agree. BMW X = boat anchor; Audi, Subaru = a necessity.
MSN
3. Compact-disc changer
Jalopnik
Agree. 1992 called, it wants its music format back.
MSN
4. Power folding seats
Jalopnik
Agree. C'mon ma, use a muscle why don't you. Lazy trollop. Just kidding.
MSN
5. Keyless ignition
Jalopnik
Disagree. Once you don't have to reach for your keys in a rainstorm you never go back.
MSN
6. Xenon headlamps
Jalopnik
Agree. We're still creeped out from seeing eyeless, Xenon-equipped cars the morning after a theft. Apparently Xenon peepers are harder to steal now.
MSN
7. Dual-zone climate control
Jalopnik
Agree. How does cold air know it shouldn't seep over to the passenger side? Hmm.
MSN
8. Factory-installed navigation systems
Jalopnik
Agree. Tom Tom Go invest the price difference in T-bills.
The Basics: 8 costly car features you don't need [MSN Money]
Related:
Never Mind the $4 Per Gallon, Here's the Summer Road Trips! [internal]