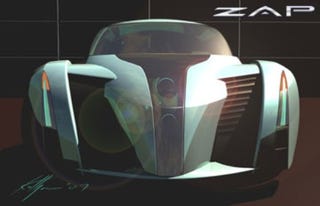 Add another high-end exotic to the electric-car universe, though lop off around $70,000 and a bit of range. This one's from Zap, the publicly traded company that forced DaimlerChrysler's hand by importing and federalizing Smart Fortwo models for the US market. The company says it's working up an EV that can hit 100 mph, go 100 miles on a charge and cost around $30,000. It uses the technologies outlined in the company's Zap-X SUV project, which uses a platform created by Lotus, but will arrive sooner. We'll get the first look at the yet-unnamed model on July 29, at the next Zap shareholders meeting. Could it be time to go long on electrics? [Thanks to Felix for the tip.]
Press Release:
AP Announces Second High-Performance Electric Vehicle in Development
Includes Similar Technology, Expected Sooner than ZAP-X
SANTA ROSA, California (June 22, 2007) - Electric car pioneer ZAP (OTC BB: ZAAP) is launching a new development program for a high-performance electric vehicle that is affordable for consumers.
6/22/2007 - ZAP Announces Second High-Performance Electric Vehicle in Development
Electric car pioneer ZAP is developing a new electric vehicle that is affordable for consumers. With a targeted price of $30,000, ZAP says the technology for the new vehicle is similar to that of an electric SUV concept announced earlier this year called ZAP-X, but will be available sooner.
ZAP says that the initial concept phase for the new vehicle is complete. The targeted price is $30,000, top speed in excess of 100 mph and range of 100 miles per charge. Many of the technologies already specified for the ZAP-X electric car concept will be applied to the new vehicle, but delivery is expected to be sooner than the ZAP-X. CEO Steve Schneider said more details of the new vehicle will be presented at the annual shareholder meeting, July 29 in Santa Rosa, California.
"With ZAP's experience over the past 12 years and the groundwork we have already laid, we know that electricity is the future of the auto industry," said Schneider. "At the same time, we believe we have a design that will serve a niche no other manufacturer in the auto industry is seeking to fill."
Related:
Zap, Lotus Team Up on Electric Crossover SUV [internal]