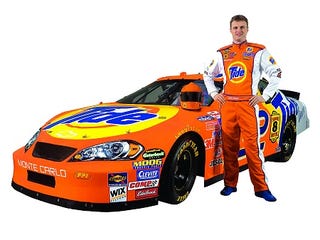 Jeb, I think it's time to sell the meth lab and buy a Nascar team. PPI Motorsports of Hickory, South Carolina is being parted out. We'd imagine it's hard to make it as a single-car operation in the modern Nascar world, especially when your sponsor hangs up its hat. Apparently the team was unable to replace Tide for the 2007 season, and was forced to shutter its operations. Team Driver Travis Kvapil bugged out to the Craftsman Truck Series to drive for Roush Fenway Racing. Now, the shop, cars and contents are up for auction. That's the whole sheebang: cars; race, fabrication and machine shops, office equipment chassis dyno, fifth-wheel trailer, motor coach, smokehouse, etc. Who wants to go in on that dyno?
Selling the Assets of Nascar Cup Team, Car #32
PPI Motorsports, Hickory, NC; Cal Wells - Owner (Pres.)
As Mr. Wells has been involved in Racing most of his life, he has been a very, very successful and excellent caretaker. He has taken great pride in his involvements in Off-Road, Indy Car & NASCAR. His family & Staff and our entire Auction Crew invite each of you to an outstanding sale.
Race Shop - Fab Shop - Machine Shop - Office Equipment - Race Cars -
Chassis Dyno - 5th Wheel Trailer - Motor Coach- Equipment of All Kinds
Wed, 4/18; Thu 4/19; Fri 4/20; Sat 4/21; Sun 4/22
5 Day Sale - Starting at 10:00 AM Each Day except Sun Starting time at 12:30 PM
Viewing Day Only: Tuesday, April 17th, From 10:00 - 4:30
SALE LOCATION: Hickory, NC From I-40 - Exit 128 - Go North on Fairgrove Church Road to 3rd Stoplight; turn left on Tate Blvd, go approx 3/4 mi to 31st PLA SE Street; turn Right approx mile to sale site; Watch for CSA Auction Signs
[More at Sentman Auctions]
Related:
Welcome To The NASCAR "Car Of Tomorrow-ow-ow" [internal]