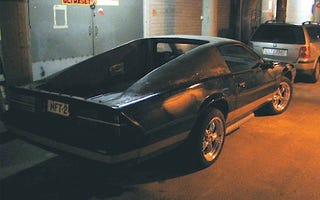 The Finns are awesome. We only know a paltry handful of them personally, but their ingenuity with a hack saw and prowess with a rally car totally make up for the bland food, meager sunlight and high taxes. And if those are the worst things about Finland, it's still better than winter in New Hampshire (oh, but I kid the Hampshirians). But back to the country's fiscal policy. Our buddy Matti hipped us to a tax loophole that brought the law of unintended consequences to bear on a helpless mid-80s Camaro Berlinetta.
During the 80's the curious vehicle classification and taxation laws in Finland lead to a situation where someone figured that a GM F-body could be turned into a pick-up truck and therefore receive a tax exempt status.
Thus, some enterprising folk of the north country created this Camaromino. The builders have retained the Camaro's fastback c-pillars, augmenting them to become flying buttresses supporting this Finnish redneck cathedral. May the Finns always have weird taxes and plenty of imported cars. If not for their benefit, at least for our own amusement.
Related:
Juha on Ice! Rally Vet Breaks Ice Speed Record in His Own Bentley; ROCin' ya Face! Finns Win Race of Champions; Between the Lines: AutoWeek on Norway's Car Taxes [internal]