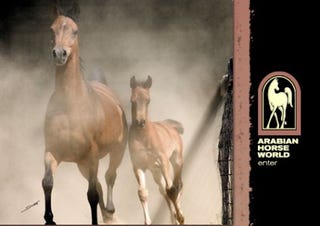 Ho, snap. Just a day after content giant, Primedia announced it was buying car-niche competitor VerticalScope Inc.'s Modified, Modified Luxury and Exotics titles, the company announced it's looking to sell off its remaining enthusiast titles. Primedia has been on a cash-raising binge, of late, for example, shedding its crafts pubs late last year for around $132 million and its hunting, fishing and outdoor titles to private equity firm InterMedia Partners for $170 million in cash. The publisher of such Jalopnik reads like Automobile, Motor Trend, Hot Rod, Corvette Fever and Arabian Horse World (what?) says it's retained investment banking firms Goldman Sachs and Lehman to find a suitable media juggernaut company to snap up the list. According to Crain's, the company's stock price spiked today on the news. It's another big move in an effort to pay down a boatload of debt from big buys like that of emap usa (formerly Petersen Publishing) from EMAP in 2000 for just over a half billion. The question now is, who will buy the catalog, and how many of the titles will be cut? Consider those the question(s) of the day. Go.

Press Release:
PRIMEDIA Announces Intention to Sell Enthusiast Media Segment
Board of Directors Decides to Explore Sale as Alternative to Spin-Off
NEW YORK—(BUSINESS WIRE)—PRIMEDIA Inc. (NYSE: PRM) today announced that its Board of Directors has authorized the Company to explore the sale of its Enthusiast Media segment (PEM). PRIMEDIA has retained Goldman Sachs and Lehman
Brothers to manage this process.
PEM is the number one special interest media company in the U.S. with over 70 publications, 90 leading websites and over 65 events, with revenues of over $500 million in 2006, excluding the recently divested Outdoors Group. Some of PEM's best known assets include Motor Trend, Automobile, Hot Rod, Automotive.com, Power and Motoryacht and Surfer.
Dean Nelson, Chairman, President and CEO of PRIMEDIA, said, "The Board believes the market environment is extremely favorable for the sale of PEM. We have spent considerable time reviewing strategic options for the Company and have been exploring, at the Board's direction, a possible spin off of our Consumer Source division, creating two distinct publicly traded companies. We have received a favorable IRS ruling and virtually completed complying with the Securities and Exchange Commission regulations. Therefore, spinning off the Consumer Source business remains an option.
"However, given the multiples PRIMEDIA received from the sale of the Outdoors Group and the particularly strong investment and debt markets, the Board believes the best course of action for PRIMEDIA shareholders is exploring the complete sale of PEM," Mr. Nelson said. "In addition, we are seeing positive results from our online and product investments, which we believe will be valued by potential acquirers. We believe there will be strong appetite for our leading brands." Mr. Nelson added, "The Company will apply the proceeds from the sale to pay down debt."
About PRIMEDIA
PRIMEDIA is the leading targeted media company in the United States. With 2005 revenue from continuing operations of $822 million, its properties comprise over 100 brands that connect buyers and sellers through print publications, Internet, events, merchandise and video programs in two market segments:

PEM is America's #1 special interest media company, with more than 70 magazines, 90 websites, over 65 events, two television programs, 400 branded products, and such well-known brands as Motor Trend, Automobile, Automotive.com, Equine.com, Power & Motoryacht, Hot Rod, Snowboarder, Stereophile, Surfer, and Wavewatch.com.

Consumer Source, Inc. is the #1 publisher and distributor of free consumer guides in the U.S. with Apartment Guide, Auto Guide, and New Home Guide, distributing free consumer publications through its proprietary distribution network, DistribuTech, in more than 60,000 locations. The Group owns and operates leading websites including ApartmentGuide.com, AutoGuide.com, NewHomeGuide.com, RentClicks.com and RentalHouses.com.
This release contains forward-looking statements as that term is used under the Private Securities Litigation Act of 1995. These forward-looking statements are based on the current assumptions, expectations and projections of the Company's management about future events. Although the assumptions, expectations and projections reflected in these forward-looking statements represent management's best judgment at the time of this release, the Company can give no assurance that they will prove to be correct. Numerous factors, including those related to market conditions and those detailed from time-to-time in the Company's filings with the Securities and Exchange Commission, may cause results of the Company to differ materially from those anticipated in these forward-looking statements. Many of the factors that will determine the Company's future results are beyond the ability of the Company to control or predict. These forward-looking statements are subject to risks and uncertainties and, therefore, actual results may differ materially. The Company cautions you not to place undue reliance on these forward-looking statements. The Company undertakes no obligation to revise or update any forward-looking statements, or to make any other forward-looking statements, whether as a result of new information, future events or otherwise. All references to "Company" and "PRIMEDIA" as used throughout this release refer to PRIMEDIA Inc. and its subsidiaries.

Primedia mulls sale of enthusiast media unit [Crain's New York Business]]

Related:
Primedia Swallows Modified Magazines [internal]