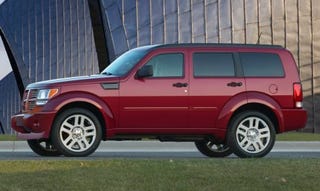 Exterior Appearance ****
As ungainly as it is, I like the way the Nitro looks. The high belt line and gun-slit windows scream "Don't look at me while you're looking at me." The busy front is its worst side, but at least the hodgepodge of tough-guy cues is unique. The over-rendered wheel arches and acres of metal adorning the sides are the Nitro's visual strong points, though I must admit to finding the rear of pleasant to look at. A feat, I should mention, that hasn't been pulled off in an SUV since DCX shuttered the Cherokee. If you squint, you can see a Jeep lurking beneath. I even liked the 20" chrome-a-tone wheels, as they caused another friend of mine to ask, "Is that a mini Hummer?" One more thing. Why "Nitro"? With looks like these, I would have called it the "Ram Wagon."
Interior Appearance ***
The innards of the Nitro are a fairly even split between Jeep's and Chrysler's parts bins. The Jeep stuff — door pulls, side speakers and chunky steering wheel — I like. The Chrysler bits — Sebring head unit, dials, and gutter-rot plastics — are fairly low-rent. Yet somehow, unlike in the Sebring, it all worked to formulate a coziness in which to while away some miles. The front seats, while leather, gave merely adequate buttressing, but the back chairs were spacious and comfortable. In fact, several passengers commented on just how accommodating the rear seats are. Which is a good, if rare, endorsement.
Acceleration ***
This little-big guy's got some guts. It's not classic, lowdown HEMI pull, but as you creep up the rev range and the four-valve heads start sucking in and spitting out, the power is impressive. Two hundred sixty horses and 265 torques are nothing to sneer about, even in a fat, topheavy, stylized lunchbox. Numbers? You really want numbers? Well, in R/T trim the Nitro will hit 60 in 7.7 seconds. Which isn't bad. The smaller 3.7-liter mill, shared with the Jeep Liberty, gets to 60 in 9.6 seconds, which is downright slow in the 2007. But as tested, we were impressed with the Nitro's quickness.
Ride *
What we were not impressed with was the Nitro's ride. Holy crap! (Er, let's just say "crap.") You know how the new big Lexus has an auto-parking feature? The Nitro comes with auto lane change. I've been on trampolines that are less bouncy. First of all, the optional 20" wheels do nothing for the driving experience, but they do add unsprung weight. Couple that with two tons of fun originally intended for slow-speed Rubicon adventures, and you have one of the most frightening modern vehicles we've ever driven. Granted, on ultra-smooth freeways, the Nitro is fine — compliant even. But even the smallest road imperfection sends the softly sprung fatty bounding in one direction, while the wheels and tires (maybe) head in the other; you're left holding a floppy wheel and praying for the best. As Consumer Reports is wont to say, "Not acceptable."
Handling **
You ever seen a Great Dane puppy slide around a kitchen floor? That's how the Nitro "handles." Not terrible, but terribly clumsy. The thing is, since the official Jalopnik runway and high-speed test circuit are being, uh, re-paved, I didn't get a chance to flog the Nitro as severely as I should have. But, like most flabby SUVs, you're never inspired to do anything remotely hoonish. You just sort of just cruise around, lording it over other drivers in their smaller, shorter cars. Quite dull, really. Now, if you count parking as part of handling then the Nitro gets zero stars. Due to the chopped window height, you have the visibility of a prison cell. Dodge Rams are noticeably easier to park. Hell, I've docked boats that were less of a hassle.
Braking ***
Good, all things considered. Not awful, not spectacular. Right smack in the middle of the road. Next.
Gearbox ***
See brakes. Also, six gears would help fuel economy. Again, next.
Audio/Video **
Eventually the Nitro will get the iGig or MyGig or YouGig or whatever they're calling the Dodge/Chrysler head unit with the hard drive. Our tester, however, had only a six-disc in-dash changer, an aux input and Howard Stern Sirius. However, as this is a DCX press car, the Sirius wasn't turned on. Seriously, Mercedes-Benz, Chrysler, Jeep and now Dodge have all loaned me cars with deactivated Sirius. I hate that.
Toys *
No, not really.
Trunk **
Like most Jeeps, lugging of stuff was not a design objective. There is some sort of easy loader contraption. Basically, it is a plastic shelf that slides out, which I guess makes loading and unloading easier. But because you have to lift cargo above your bellybutton anyway, I didn't get the point. And, if you push it back in too quickly, whatever you've loaded falls back and gets wedged between the shelf and the back seats. Plus it cuts down on the height of the objects you can load, eating into the Nitro's already challenged haulability.
Value **
Our tester was a fancy floor mat away from cracking the $30,000 barrier. As it has no off-road capability, no towing or cargo capacity, no performance pretensions (let alone aspirations) and aside from that nifty commercial where a red Nitro falls through the earth to China, no killer app. Your thirty-large can be better spent elsewhere. Like on a Magnum with a 5.7-liter HEMI.
Overall ***
I'm giving it three stars and I feel slightly guilty doing so. To me the Nitro is the antithesis of what I look for in a vehicle. Ponderous, klutzy, relatively useless and worst of all dull. However, I can empathetically imagine why other people might really enjoy owning and driving such a tall wagon. It looks distinct — handsome even. Plus you get to sit in a highchair like a big boy. And yeah, if pressed even I will admit the 4.0-liter V6 delivers some pretty satisfying good old 'merican straight-line punch. And the back seat really is the class of the class.
Related:
Jalopnik Reviews: 2007 Dodge Nitro R/T 2WD, Part 1, Part 3 [internal]