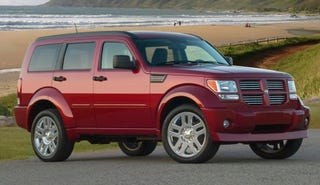 Recently, a friend and I stood staring at the massive, awkward fascia of a Dodge Nitro, trying to make heads and/or tails of it. The otherwise monumental Crossfire motif of the grill was, in fact, dwarfed by the bulging bumper and drooping ground effects. "I think I think it's ugly," I said, unsure as I've ever been about a car. "Yeah, well, I'd rather have [the Nitro] than that," my friend said, pointing to a wholly anonymous Honda CRV parked nearby. He raised a fair and solid point; I hadn't even noticed the Japanese cute-ute sitting not more than 20 inches away. "Or that" he exclaimed, gesturing toward a Lexus RX330, one of the flashier eyesores in the lot. Again, he was right. Based on nothing but aesthetic considerations, the Nitro beat both of those dull-as-eggs class leaders, pants down.
As I drove home, a black-on-black Mercedes-Benz G55 AMG came up fast on my tail. I scooched over to let the erstwhile military SUV pass, admiring the no-nonsense form as it torqued by. Both vehicles are, of course, DaimlerChrysler products, one designed to schlep Bobby and Sally to the soccer field and the other to defend smiling Swiss from unruly Hungarians. Still, I thought, there's a kinship. Both are boxy, imposing and in their own extroverted ways, to-the-point. I followed the Gel ndewagen for a few miles, basking in the secret-to-most knowledge that my Nitro has a really cool uncle. And even if they are only related through (shotgun) marriage, both SUVs descended from a common ancestor, the brick.
As I pulled alongside another cousin, a white Jeep Cherokee, my budding theory fell flat as the Nitro's side panels. Passing America's most perfect ever SUV, I realized the Dodge is a faker. A phony. A poseur. Its battlewagon exterior proportions aren't real, they're just bunting. By way of contrast, the Cherokee's two-box dimensions are nothing but pure functionality. It's a Zippo, an army knife, a pair of Levis. The Nitro is as much a relative of the Cherokee as I am of the Pope. And then I realized the new Dodge in town does in fact share a certain lifestyle choice with the G55. Both dubbed-out, low-pro rides are as likely to go off road as a baby's carriage. Less, actually.
I don't know how many more ways I can say this, nor can I imagine how many more times I will have to, but if an SUV isn't able to go off road it has no reason to exist. High seating position? No. Sit on a phone book. Dodge's new funny-faced entry is built off the same platform as the dufus-looking (sorry Ray) Jeep Liberty. But Dodge castrates the transfer case, leaving a puffy eunuch of a vehicle totally devoid of anything that could be mistaken for an approach angle. Our tester was even two-wheel drive. In other words, the Nitro is pointless.
Related:
Jalopnik Reviews: 2007 Dodge Nitro R/T 2WD, Part 2, Part 3 [internal]