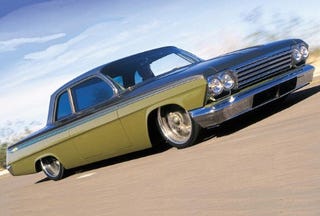 To put a fine point on how well executed this '62 Chevrolet Biscayne is, let's check out the Q&A section on its eBay listing:
Q: Will you take my left nut as a trade?
A: Sorry, we only accept right nuts on trade. Better luck next time.

Q: Part exchange for one grandmother, one mother-in-law, one kidney, half a liver and a smokey old camaro...all reasonable condition, may throw in an arm.
A: All trades considered! Pictures of grandmother and mother-in-law would be helpful in our decision making, especially if they are hot!

Q: Ill be a s.o.b.!!!!!!!
A: OK cool, what the hell I'll be one too!

Q: Wow. always loved this bad boy! If i can sell my kidenys [sic], i'll buy it!
A: How much are you looking to get for both kidneys assuming they are in excellent condition? I might be able to get you something for them on a trade in.
One right nut, coming up. [Thanks to Ken for the tip.]
CHICAYNE 1962 Biscayne 1400HP Hot Rod of the Year [eBay]
Related:
Oh No. Wrong Buick on eBay [internal]