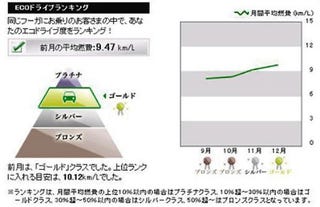 Right-pedal junkies in Japan, take heed. Nissan's offering a new electronic eco-nanny that monitors driving behavior, with an eye toward promoting fuel efficiency. Think of it as an onboard Acceleration Anonymous sponsor, who gently points out where bad habits cost you dearly (and ignores the other 11 steps). Its part of a new telematics system the company's offering in Japan, dubbed Carwings, created to foster less-consumptive habits with the help of gimmickry electronic devices. The system, available on optional, factory-installed DVD navigation systems, works day-to-day, calculating a subscriber's average fuel efficiency and sending it to a data center, where it's posted — via pretty charts and graphs — on a personalized web page.
Press Release
NISSAN'S NEW CARWINGS SERVICE PROMOTES ECO-DRIVING
TOKYO (Jan. 22, 2007)—Nissan Motor Co., Ltd., today announced it will introduce a new CARWINGS service to promote eco-driving or more fuel-economical driving habits amongst Japanese motorists(*1). The service has been specifically designed to educate and raise awareness amongst drivers on the impact of day-to-day driving habits on their vehicle's fuel consumption average. The new CARWINGS service is part of Nissan's holistic efforts to reduce CO2 emissions as announced under the Nissan Green Program 2010. CARWINGS is Nissan's original telematics service that is currently available only in Japan.
The new service will assist drivers to become more conscious of their vehicle's fuel-efficiency performance by providing them with the average fuel-consumption data according to their day-to-day driving habits, and allows the driver to track and monitor improvements to their eco-driving skills over a period of time.
The system can calculate the average fuel efficiency performance of each vehicle equipped with CARWINGS through data sent directly to the CARWINGS Center, where the data can be retrieved on the member's personalized webpage.
It is designed to challenge the driver to improve on their eco-driving skills through a monthly fuel-efficiency ranking. Reminding the driver to drive in a more environment-friendly manner the system provides information on their past monthly averages, as well as weekly performance indicators.
1. Eco-drive rankings
CARWINGS members gain category rankings based on their average fuel efficiency in the previous month. Their average score can be compared with the average of other CARWINGS members of the same vehicle model, as shown in an easy-to-understand graph.
Average fuel efficiency ranking
2. Indicators on eco-driving
The Website indicates fuel efficiency for the previous week compared with the average from the previous month, with weekly tips on how to achieve higher efficiency.
Indicators on eco-driving
3. Fuel efficiency record
This graph maps distance traveled against fuel consumption over the previous 30 days to help members to improve fuel efficiency.
Fuel efficiency record
This new eco-driving service is included in the CARWINGS package. The CARWINGS system incorporates a user-friendly interface combined with web-enabled technology. It is designed to collect various driving data from customers' vehicles and process it into value-add information that is both relevant and beneficial to customers. Nissan defines this concept as the WEB 2.0 application for vehicles.
Under the Nissan Green Program 2010, Nissan will offer technology and products to help make real reductions in CO2 emissions. The company is actively engaged in joint efforts with other partners, including the ITS project(*2) in Kanagawa Prefecture and various driver education programs as part of its commitment to reduce CO2 as a company-wide effort.
(*1) The service will be available on factory-installed optional DVD navigation systems offered on the Fuga, Tiida, Latio, Serena, Lafesta, Wingroad, Note, Sylphy, Presage (after May 2006 freshening). For factory-installed optional HDD navigation systems, introduction is scheduled in mid-2007.
(*2) ITS Project: Pilot project conducted in Kanagawa Prefecture, which uses ITS to allow vehicle-to-infrastructure communication to help reduce traffic accidents and ease congestion.
Related:
Mazda to Spotlight G-Book Telematics Service at Tokyo Show [internal]