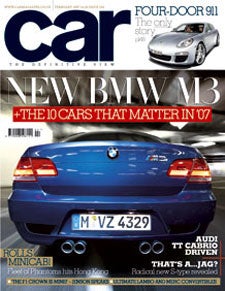 M3Post.net offers an entry by Car magazine associate editor Tim Pollard, who explains the presence of photoshopped imagery of the new BMW M3 in the mag's latest issue. As Pollard explains, the art was based on sketches of the M3 provided by sources in the design department, with photos of the current 335i used for reference. Well, that solves that teapot tempest. But wait, there's more. Pollard continues:
Our information is that there will be a concept, similar to the M5 concept, at the Geneva Motor Show in early March. It'll be a very close pointer to the production car due later this year.
Now, we're just waiting to for the Lexus IS-F to debut in Detroit this weekend to see exactly what BMW has to beat.
New M3 story in CAR magazine - background [M3Post.com]
Related:
Car Magazine on the New BMW M3 [internal]