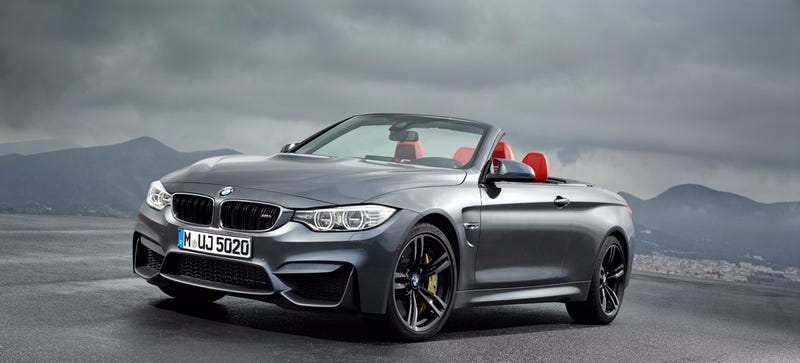 It's about time. We saw the new BMW M3 and M4 months ago, so it's time for the 2015 BMW M4 Convertible. It's spring, after all.
Like the coupe and the M3 sedan, the M4 Convertible gets a very turbocharged 3.0-liter 425-horsepower straight-six with the choice of a six-speed manual or 7-speed DCT transmission. BMW says the manual does 60 in 4.4 seconds, and opting for the two-pedal car shaves 0.2 seconds off that time.
As with the normal BMW 4-series Convertible, the M4 has a trick three-piece retractable hardtop, now with a standard windblocker for the U.S. market. How cool!
BMW is also proud of its "lightweight" construction that brings curb weight down by 90 pounds compared to the old M3 convertible, to a grand total of, um... "just" 4,055 lbs. Take that however you want.
Being shown this month at the New York Auto Show, BMW says the M4 convertible will go on sale late this summer.
Photos: BMW