Last night, the first image of the brandidly new Porsche Cayman leaked out onto the interwebs. It looked just as we expected it to look, and that ain't a bad thing.
Well, now, more images have surfaced. And holy crapatola does it look swell. I'm even going to be daring and say it's sexy.
Like the Boxster, the Cayman has received stacked headlights inspired by the upcoming 918 Spyder. In addition, it gets a more angular front end with the Cayman's signature fog lights in the grill.
G/O Media may get a commission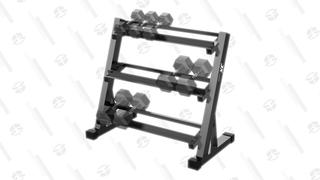 20% Off
JX Fitness Dumbbell Rack
Gains but tidy
Has a three-tier design to help store more weights more conveniently, can safely support up to 1000lbs of weight, which should be enough for most people, has a triangle base for stability, and also features anti-scratch feet which is great if you've built your own studio or workout in your garage.
Around back, the Boxster cues continue with a spoiler that is integrated into the rear lights. Now, a lot of you are probably saying "Oh this doesn't look totally different" and "Porsche designers are soooo lazy!"
Well, say what you will. The small refinements that have sharpened up the design really make a big difference. This thing is pretty much the tits.
The biggest issue is that Porsche has made a real problem for itself: If the entry level coupe in the Porsche lineup looks this good and has slightly more power than the Boxster (which is the rumor), why would anyone buy a 911 over this?
I wouldn't.