Jalopnik's own Travis Okulski drove the new Ford Fusion Hybrid in New York. He claimed to want to "Make tender but gentle love to it." At the same time Travis was figuratively zipping his pants back up, I was heading out to Santa Monica for sloppy seconds.
I would get a chance to drive the Fusion Hybrid out in California, but my main objective was to discover if the gas powered beauties provided the same orgasmic urges as the hybrid did.
(Full Disclosure: Ford wanted me to drive the new Fusion so bad they put me up in a delightful hotel room overlooking the Pacific Ocean. At dinner I ate pasta and was serenaded by a man with a guitar. I found it uncomfortable. Awkward. But at the same time strangely entertaining. Weird.)
The midsize sedan segment is littered with dull, uninspiring vehicles. Good cars, no question, but not exactly exciting. Take the Toyota Camry (the best selling car in America), for example. It sells quicker than a hot baguette at a French bakery, but most certainly doesn't evoke any erotic musings. It doesn't particularly engage the driver, either. It is just a plain, comfortable car that serves its purpose extremely well. For that very reason, the Camry has become the target at which Ford took aim with the new Fusion.
G/O Media may get a commission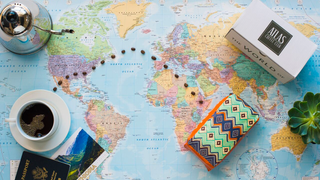 First Bag Free
Atlas Coffee Club - Free Coffee
Explore global coffee
With each bag, Atlas includes details on the coffee's tasting notes and a postcard about the region and its coffee history. And when you subscribe, you have options to tailor frequency, grind size, and roast preference of your beans, so you'll always be brewing the perfect cup.
But Ford didn't play it safe and attempt to replicate the solid, practical and comfortably beige features that resonate with Camry buyers. Ford decided it would take a different approach and design a beautiful, fun car to drive that maintains practicality and affordability.
Enter the new 2013 Ford Fusion. A midsize sedan that finally oozes sex appeal and is actually engaging to drive. It certainly made me stand at attention.
Compared to anything else in class, the Fusion is in a different hemisphere aesthetically. The front holds an uncanny resemblance to an Aston Martin and the rear is reminiscent of the Audi A7. Got wood? I have.
Details such as the contoured grooves on the hood, mixed with the wide, gaping grill, look out of place (in a good way) in the midsize sedan segment. The tip of the hood protrudes further forward, allowing the Ford emblem to sit above the grill rather than in the center, providing a far more sophisticated demeanor. The tapered rear works well and the twin exhaust pipes on the 2.0-liter EcoBoost, combined with the optional 19-inch rims, blend the package together nicely.
Clearly, an effort in the detailing has been of premium priority, and yet it's still unmistakably Ford, fitting agreeably in line with the manufacturer's new family look.
INTERIOR (7/10)
Not only is the Fusion shhhexy (as Sean Connery would say) on the outside, but it is pleasingly dashing on the inside, too. The center console is relatively minimalistic and easy to use. The handbrake is an electric button, and while I would prefer a traditional setup (for obvious hooligan-like behaviors), I do appreciate the cleanliness it offers. Seating is comfortable, with good support, and vision is adequate if not fantastic. Despite the swooping headline of the new Fusion, the rear seats have solid head- and legroom, although again, not class-leading.
Thankfully (as being in Malibu I witnessed enough plastic to last a lifetime) the use of plastic in the interior is relatively minimal. The interior feels fresh and modern. Comfortable with a hint of sportiness. In keeping with the exterior, Ford did a good job of blending a suitable balance with the needs of the segment.
ACCELERATION (5/10)
We have heard a little about the Fusion Hybrid already (and expect a plug-in hybrid named Fusion Energi to be released in January). There are three gas-powered options, starting with the base 2.5-liter engine, 1.6-liter EcoBoost I-4 turbo (available with an optional manual gearbox – yay!) and the 2.0-liter EcoBoost I-4 turbo, which is available with all-wheel-drive.
The two cars I fooled around with most were the 1.6L manual and the 2.0L AWD. The 1.6-liter is expected to be the volume car, followed by the 2.0. Neither car is slow, yet neither is particularly fast. The 1.6 produces 178 hp and 184 lb-ft, only a smidge better than the base 2.5. But even despite the average numbers, the engine feels lively; power is linear and you aren't left yearning for more. The 2.0-liter EcoBoost delivers 237 hp and 270 lb-ft of torque.
And while the torque figures are competitive in class, the horsepower numbers are a touch down compared to other manufacturers' top-line models. Still, the engines feel buttery smooth and acceleration solid. But despite the additional power of the 2.0, don't think that eradicates the 1.6 from consideration as a realistic alternative. After all, the 2.0 is only available as an automatic, and the AWD version is a chunk heavier, too. More on this later…
BRAKING (7/10)
Ford's vented front and solid rear brake discs were never truly challenged on the mountainous roads through the canyons of Malibu. But what they did provide is great feel, along with sharp but not grabby response. And, although I never had a chance to truly punish them to discover any potential underlying complaints, what stopping I did do was good.


RIDE (7/10)
The Fusion is clearly designed with beauty in mind, intertwined with an engaging driving experience. And when you focus purely on this, the comfort factor expected of a midsize sedan can drift astray. Fortunately, Ford has maintained a comfortable yet taut ride and, happily, I didn't feel like the three-hour drive aged my body 20 years when hauling myself out.
No doubt the gas-powered engines ride better than the hybrid (which is solid in its own right) and the 1.6-liter EcoBoost rides the best of the lot, made possible by its lighter curb weight (3,333 lb versus 3,681 lb with the 2.0L AWD), eliminating the need for stiffer suspension to compensate.


Engine: 1.6-liter EcoBoost turbo I-4; 2.0-liter EcoBoost turbo I-4
Power: 178 hp / 184 lb-ft; 237 hp and 270 lb-ft
Transmission: 6-speed manual; 6-speed automatic
0-60 Time: N/A
Top Speed: N/A
Drivetrain: Front-Wheel Drive; All-Wheel Drive
Curb Weight: 3,333; 3,681
Seating: 5
MPG (cty/hwy/cbn): 25/37/29 (1.6L manual); 22/34/26 (2.5L auto)
MSRP: $23,700; $32,300
HANDLING (7/10)
The Fusion drives exactly as Ford advertised. It's fun. It's well-balanced, and it puts a smile of your face -– especially the manual. Grip level is relatively high and body roll is very low compared to its competitors. With its MacPherson front strut and rear independent multilink suspension, it just feels tighter, more poised and with an even weight distribution. The hybrid, incidentally, has the closest to 50/50 weight distribution of the entire lineup, but all feel pretty darn close.
We have established the Fusion is not that fast, but it is nicely in line with the grip and handling characteristics it possesses. You don't need additional power to have fun — proved by the BRZ and FR-S — and the Fusion works in a similar way. It's an enjoyable experience, which is more than can be said for many of its rivals.
Compared to the 2.0 AWD, the 1.6 is the better-handling car. No doubt this has to do with the roughly 300 lbs saved in the 1.6. It feels more on its toes. Lighter and more agile. Not by much, but enough –- combined with the manual transmission -– to make the 1.6's power deficiency over the 2.0 almost irrelevant.
GEARBOX (7/10)
Let me start by saying the automatic gearbox is solid. It never left me cursing, wishing it would change down, or pouring my hot Starbucks on my ride partner's crotch in grievance that it changed up before I was ready. It's a good six-speed automatic. But let's face it, we care about the manual, right?
Obviously, the six-speed manual gearbox is not expected to sell in great quantities and is, in fact, only available by special order – i.e. no dealer will maintain any on the lot. And with that said, I applaud Ford for utilizing a manual in the 1.6. I do, however, wish they had it available in the 2.0, but they said it was the 1.6 or no manual at all. So 1.6 it is.
The throws are rather long, but silky smooth and clean to engage. Its ease of use is fantastic and it magically transforms the car. The 1.6-liter auto is like riding the kid's carousel at Disney World, having just stepped off Thunder Mountain. Mix the lightweight 1.6 with the excellent manual gearbox and you have a fun little nipper that constantly makes you smile.
It's amazing what a manual gearbox can do; if only people would bloody buy them!
AUDIO (5/10)
I can't say I listened to the radio much. But what I did hear sounded decent. The Titanium package comes with the Sony Premium 12-speaker audio system, versus the six-speaker system that comes standard. Engine noise is like a constipated cat, but right on par with others in class. Let's face it; the midsize-sedan category is not known for auditory excellence, after all.


TOYS (7/10)
As you move up the model range from the S, SE, up to the Titanium, more and more options become available. And the Titanium really comes with some solid toys for this type of car. Gadgets like push-button start, heated sport seats, rear view camera, remote start, reverse sensing system, SYNC with MyFord Touch encompassing traffic reports and navigation. HD Radio is available with Sirius XM, hill start assist, active park assist, lane-keeping system and blind spot warning. Not bad. Not bad at all.


VALUE (8/10)
The Fusion is on the upper limits of price range in its class, but that doesn't make it a poor value. Au contraire, mon ami. The 1.6-liter manual has a base price of $23,700 and the 2.0-liter at $32,200. Of course, the 2.0-liter comes dressed with more goodies and more power to boot, but the manual is more fun to drive. I'd save the cash and go with the manual. But what I really want is a 2.0-liter manual FWD (saving the weight on the AWD) but sadly, that will remain a wet dream.
All Fusion models attain impressive fuel efficiency (2.5L auto 22/34/26 mpg city/highway/combined, 1.6 auto 23/36/28 mpg, 1.6 manual 25/37/29 mpg, 2.0 FWD 22/33/26 mpg, 2.0 AWD 22/31/25 mpg), although don't be surprised if you find it tough to meet these numbers. I was generally a couple of mpg's down, even when attempting to drive like a granny.
When you combine the beautiful appearance, smart interior and engaging driving experience with the fuel efficiency and practicality Ford's achieved, the Fusion stands tall as the best car in class. No doubt it is a winner and one that will receive universal praise. The question is, will it be enough for the midsize sedan buyer — not traditionally bothered with looks and fun handling — to jump ship?
Of course, the Fusion can brag to embrace all these qualities and more, and do so at a competitive price. Simply put, if you are in the market for a midsize sedan and you don't buy the Fusion, you are an idiot. And I judge you. I judge you harshly.
68/100
EXTERIOR (8/10)
INTERIOR (7/10)
ACCELERATION (5/10)
BRAKING (7/10)
RIDE (7/10)
HANDLING (7/10)
GEARBOX (7/10)
AUDIO (5/10)
TOYS (7/10)
VALUE (8/10)
2013 Ford Fusion 4dr Sdn S FWD Specs
Transmission/Drive
Automatic w/Manual Shift