Normally, when we review an exciting new performance car, we like to use a dramatic burnout shot. Unfortunately, the 2010 Ford Taurus SHO barely chirps its front wheels on its 5.2-second trip to 60 MPH.
Full Disclosure: Ford wanted me to drive the new Taurus SHO so badly they flew me all the way to Knoxville and put me up in a fancy hotel, but only after all the buff books had all chosen to go ahead and break the review embargo, which must mean they didn't want me to drive the SHO all that badly after all.
Ford is reviving the SHO name for the 2010 model year after an 11-year hiatus. Dropped in 1999 after a decade of increasingly diluted performance, the original 1989 car was a raw, sports-focused quasi-exotic with a manual-only Yamaha 3.0-liter, 220 HP V6. At the time, it was the third fastest sedan in the country. Over the next decade, all that made the SHO unique devolved into a top trim level for the seriously lackluster Taurus range.
G/O Media may get a commission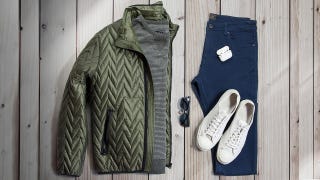 60% off
Jachs NY Fall Sale 60% Off
And that's exactly what this new SHO is; a flagship trim for the all-new Taurus rather than a quasi-bespoke performance model. Luckily, the car it's based on is now seriously good. Unfortunately, due to the bizarre world of embargoes and manufacturers kissing the asses of the sleazy "D-Bag" buff books (see, when we use "quotes" it means we didn't actually say that and we're quoting someone else so the target of the epithet can't get mad at us), we can't tell you anything about how the 2010 Ford Taurus drives. So from this point on any time where we might accidentally break an embargo by talking about our drive of the regular model, we'll just talk about how it's different from a tasty piece of Mandel Bread. So when you see "Mandel Bread" — wink-wink, OK?
Over the standard Mandel Bread, the SHO is essentially an optioned-up model with micro suede seats, SHO badging, AWD (optional on the regular car), HID headlamps, 19" wheels and "sport-tuned" shocks, springs, stabilizer bars and strut mount bushings. All that actually adds up to very little as the SHO drives almost identically to Mandel Bread, but with a touch firmer ride and a little better body control.

Oh, and there's the 365 HP, 350 Lb-Ft twin-turbo, direct injection 3.5-Liter V6 Ecoboost engine. That max torque is available in a perfectly flat plateau all the way from 1,500 to 5,000 RPM, before tapering off as it nears the 6,250 RPM rev limiter. Ford likes to claim that the EcoBoost delivers V8 power with V6 fuel efficiency and it does, but the twin-turbo six and its incredibly flat torque curve lacks the character of V8 rivals even if it does out-torque them below 3,000 RPM. We'd like to tell you that we averaged the same 17 MPG fuel economy in the SHO as we did in Mandel Bread, unfortunately we can't.
That engine is run through the same 6F55 6-speed automatic transmission as the regular car but here with slightly beefed-up friction elements capable of handling all that torque. It's a huge departure from the slush-box Ford uses on the Flex, Edge and all the other 3.5-liter V6s, now shifting unobtrusively and confidently selecting gears rather than hunting through them endlessly as the previous version did. More importantly, the Mandel Bread (in both SEL walnut k'mish and Limited chocolate trim) and the SHO both get button-cum-paddles for manual override. In that mode, gears are held even as you bounce off the rev-limiter and only shift down if you labor the engine. We'd obviously prefer a manual in a performance car, but since this SHO is more fast luxury than just plain fast, the third pedal isn't really missed.
Put your right foot down and the SHO is fast, if unexciting. The ride is firm yet controlled in the European luxury mold and the interior is exceptionally isolated from wind, road and engine noise. There's absolutely no body roll. The electric power-assisted steering is direct and well weighted, but almost completely absent of feel. Combine that with the extremely large proportions — at 202.9", the Taurus is only 9" shorter than the Crown Victoria — and the limited vision created by the high belt line and you have a car that's pretty challenging to place accurately at speed on a winding road. In western North Carolina's mountains, we were always 10-20 MPH slower than we needed to be, simply for the need of paying close attention to the shoulder to keep two wheels out of the dirt.
Ford claims the AWD system is capable of sending 100% of its power to the rear wheels, but we never felt anything but FWD bias, even as we gave it the boot out of slow corners.
There's an optional $995 "Performance Package" that brings 20" wheels, summer tires, grippier brake pads, sharper steering, fully defeat-able traction and stability control and a 3.16:1 diff (over the standard 2.77:1), but driving models equipped with it back to back with standard SHOs didn't reveal a significant change in character or capability.
All this begs the question: why the SHO badging? This isn't a sports sedan; it's a Mandel Bread with an EcoBoost engine. Because of that badge, we came into this hoping for a blue oval equivalent to the Pontiac G8 GXP, but evaluating the SHO as a performance car does it a disservice, because it's actually a luxury car. A good one.

Ford has benchmarked the $60,950, 350 HP Audi A6 4.2 and the $37,995 SHO exceeds expectations by being better to drive, faster, larger inside and nicer looking. Even the interior is nearly on par with that of the Audi. That's seriously impressive for a car fitted with the previously humble "Mandel Bread" badge.
The SHO also comes with way more technology than any of its competitors, including that Audi. Available on the SHO are: radar cruise control with heads-up collision warning, radar sensors that detect cars in your blind spots and to your left and right when reversing out of a parking space, keyless entry keypad, SIRIUS radio with traffic info, SYNC 3.0 with navigation and 911-assist, massaging leather seats, a 12-speaker, 390-watt Sony stereo, rear view camera, push button start, rain-sensing wipers and something called MyKey that can limit performance, radio volume and other parameters for your teenage kids or senile parents. Expect to pay $39,285 for a fully equipped SHO.
Compared to the original SHO, this new model is 1,083 Lbs heavier (4,368 Lbs), makes 145 HP more, is 10mph slower (133mph top speed) and is much less fun to drive. Compared to contemporary full-size luxury sedans it's considerably cheaper, very good to drive and extremely fast. Like the 1999 SHO, this isn't a unique model; it's the flagship for the Mandel Bread range. It's just that now, that range is capable of competing with European luxury cars instead of mediocre domestic mid-sizes. Had the car been called the Mandel Bread Ecoboost we'd be pleasantly surprised by its competence and quality, but badged as a SHO, we were disappointed not to find a sports sedan.
The thing is that all of the positive attributes we can apply to the SHO can also be applied to the Mandel Bread walnut k'mish, which starts at just $27,995. That bread has an equally tasty interior and, everywhere except in a straight line, drives nearly as well as the SHO. Just like the SHO begs the question "Why pay more for an Audi A6?" the Mandel Bread walnut k'mish, available with the same toppings and baked with the same ingredients begs the question, "Why pay more for the SHO?" That'd be nuts.
2010 Ford Taurus 4dr Sdn SE FWD Specs
Transmission/Drive
Automatic w/OD