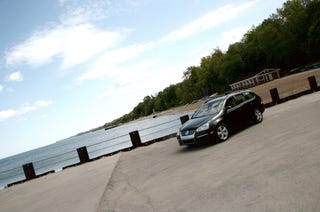 Jalopnik Reviews
All of our test drives in one convenient place.
Why you should buy the 2009 Jetta SportWagen: You want a Euro wagon and don't have the stash for an Audi S4 Avant or the desire to stuff your friends in an A3. The question of how you're going to get all of this stuff back to your loft from Trader Joe's is a common one. Subaru? Nothanku. You are a keeper of the greatest of automotive secrets: wagons make the best cars.

Why you shouldn't buy this car: They're going to soon be selling this exact same car in a torquey turbodiesel and a zippy turbocharged gas version. You think of wagons as something your grandma drives. You do have a stash big enough for an Audi S4 Avant. You have no friends, you rent and everything you own could fit in a Del Sol.





Suitability Parameters:
Speed Merchants: No
Fashion Victims: Yes
Treehuggers: No
Mack Daddies: No
Tuner Crowd: No
Hairdressers: Yes
Penny Pinchers: No
Euro Snobs: Yes
Working Stiffs: Yes
Technogeeks: No
Poseurs: No
Soccer Moms: Yes
Nascar Dads: No
Golfing Grandparents: Yes

Also Consider:
• VW Jetta SportWagen TDI
• VW Jetta SportWagen 2.0T
• Mazda6 Wagon, if you can find one
• Subaru WRX
• Audi A3
Vitals:
• Manufacturer: Volkswagen
• Model year: 2009
• Base Price: Good Question
• Price as Tested: Better Question
• Engine type: 2.5L DOHC I5
• Horsepower: 170 @ 5,700 RPM
• Torque: 177 @ 4,250 RPM
• Transmission: 5-Speed Manual
• LxWxH: 179.3" x 70.1" 57.4"
• Wheelbase: 101.5"
• EPA Fuel economy city/highway: 21/29
• NHTSA crash test rating: ****/**** (Driver/Passenger)
Also see: