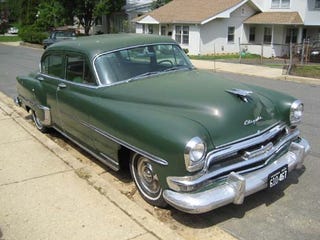 Much of the old Detroit iron in the eastern half of the continent has oxidized into nothingness by now, but that doesn't mean it's all gone. Virginia-based Jagvar has been kind enough to shoot some quality photos of a very clean '54 Chrysler that parks in his neighborhood. The Windsor was the least expensive Chrysler for '54, and it came with a 265-cubic-inch flathead six engine. Make the jump to read Jagvar's description.


I live in Arlington, Virginia, where I've spotted a green 1954 Chrysler Windsor parked on the street several times. I've been waiting for weeks for a clear, sunny Saturday, and today I was finally able to make it over to snap some pictures.
The car appears to be a daily driver. It's usually parked within a few spaces of the same house, and it's out on the street, rain or shine. As I said, it's a '54, it has a flat-head six, and that's about all that I know about it.