A Renault driver was hospitalized and two pedestrians narrowly escaped a 3,347-pound Chevrolet Corvette C7 hurtling at them uncontrollably in Tula, Russia, on Wednesday, after the Corvette struck the Renault and veered into a shop. The driver of the Corvette appeared to emerge unharmed.
The pedestrians escaped injury in large part because of the stairwell they were on. The Corvette's driver, who according to one Russian outlet, didn't have a driver's license and was identified in a local report as only as "Vilen," also seemed fine, with video showing him being pulled from the car and, later, walking around and talking on a cellphone. The driver of the Renault wasn't so lucky, having been taken to the intensive-care unit after the crash.
That's all according to a (somewhat remarkable) interview Vilen gave with MySlo, a local outlet. Vilen said he was late for an exam that morning, but denied speeding.
Here's a few excerpts from that interview, as translated by Google. It's worth reading in full:
I began to signal him, then, after thinking that he would stop, I decided to go round him on the right, but it was too late: we came across.

[...]

According to Vilen, he is in touch with the family of the injured driver Renault: "We are calling up. I know that he hit his head hard, because he was not fastened with a seat belt. Yesterday he was in intensive care, today he must be transferred to a general ward. I wish him health only so that he soon went on to recover. I will definitely visit him in the hospital as soon as the doctors are allowed."

[...]

I bought this machine myself this spring. The new one was expensive to take, [6 million rubles, or about $96,000] worth it. I took a used for [4.5 million rubles, or around $72,000], it was in excellent condition!
G/O Media may get a commission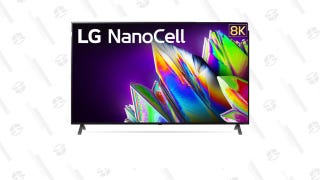 LG 75-Inch 8K TV
Vilen claims he earns all this money from making videos on YouTube, which is possible, I suppose.
Video filmed after the wreck showed the extent of the wreckage:

A bit more from the interview:
I was afraid that the car would explode or a fire would start - everything was smoking! - recalls Vilen. - Arriving rescuers have disconnected the battery, and all has managed. I myself have not suffered, there are no fractures, only bruises hurt a little, but this is nonsense, will survive. The main thing is that the driver of Renault all was well.
Don't drive without a license, kids, and also maybe teens shouldn't be allowed to driver Corvettes, period. The weakest Corvettes make around 455 horsepower, which, if we're being honest, is too much power for anyone.