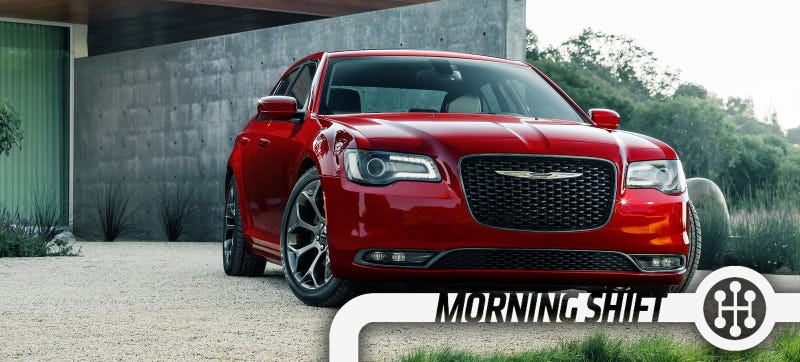 The Morning Shift
All your daily car news in one convenient place. Isn't your time more important?
Good Morning! Welcome to The Morning Shift, your roundup of the auto news you crave, all in one place every weekday morning. Here are the important stories you need to know.
1st Gear: 'Do Or Die Time' In The Great White North
Fifteen years ago, Canada was the world's fifth-largest producer of automobiles. But unfavorable exchange rates and high labor costs have forced automakers to look elsewhere, including General Motors, which will move Camaro production back to Michigan.
One thing that could help save Canadian auto production is an overhaul of Fiat Chrysler's Brampton Assembly plant, where they make the Chrysler 300 and Dodges Charger and Challenger. But the plant and its tooling are aging, and the cars themselves due for a replacement, reports Automotive News:
An overhaul is likely to cost at least $1 billion. FCA is already spending twice that to upgrade its Windsor, Ontario, plant, where it makes minivans. If the Canadian and Ontario governments and Canada's auto union can't convince FCA to take the plunge in the next year or so, Brampton's long-term prospects are dim.

"It's do or die," said Leon Rideout, a Newfoundlander who heads the Brampton local of Unifor, the Canadian auto union. "Without investment, there's not much of a future for us."
Fiat Chrysler has not announced any immediate plans for the Brampton plant.
2nd Gear: Big Changes Coming To The VW Group
Mad genius Ferdinand Piëch is out at Volkswagen Group, and it would seem that so is the way he organized the conglomerate. Reuters reports that VW Group is reorganizing into a more decentralized structure, with four holding companies controlling its many brands. It works like this:
The Audi, Lamborghini and Ducati brands will form another holding company led by current Audi CEO Rupert Stadler. Porsche, Bentley and Bugatti will be grouped together in a single unit under current Porsche boss Matthias Mueller and VW Commercial vehicles will form another division with the Scania and MAN heavy truck brands with former Daimler trucks boss Andreas Renschler in charge, Handelsblatt said.

The reorganization would overturn former VW Chairman Ferdinand Piech's strategy of giving individual brands autonomy to encourage competition between them. Many industry watchers said Piech made VW Group difficult to control and slow to react to market changes. The group has 600,000 employees worldwide and 119 factories.

The new structure is designed to improve efficiency and make decision-making quicker, Handelsblatt said. Each business group would decide which models it sells and which markets they are sold in. The head of each holding company will sit on VW Group's management board. Group roles such and the groupwide head of sales and marketing position held by Christoph Klingler would be eliminated.
That's a long block of text, but emphasis mine on the important part. It's going to be fascinating to see what this does to product development.

3rd Gear: Despite Recall Crisis, Honda Promotes From Within
A lot of companies facing what Honda's up against with the Takata airbag recall fiasco would be tempted to hire a total outsider to turn things around. That's not how Honda operates. From Bloomberg:
Honda Motor Co. is turning to an insider who's spent his entire career at the company to navigate out of a global auto safety crisis, after seven people died in its cars.

Takahiro Hachigo this week becomes the eighth president of one of Japan's most renowned companies. By replacing Takanobu Ito, whose tenure was plagued by recalls and rupturing Takata Corp. air bags, he upholds a 41-year custom of Honda presidents hand-picking their successors from within.
Supporters say Hachigo is less autocratic than his predecessor and more willing to listen to others.
4th Gear: Speaking Of Takata...
Automakers and the National Highway Traffic Safety Administration are still in the process of figuring out which vehicles need recalling to fix their potentially explosive and lethal Takata airbags. One more from Bloomberg on the Daimler vans that need fixing:
The affected vehicles, the 2007-2008 Freightliner Sprinter 2500 and 3500 and the 2007-2008 Dodge Sprinter 2500 and 3500, were manufactured from July 1, 2005, to July 31, 2008, and "are equipped with a passenger side frontal air bag that may be susceptible to moisture intrusion which, over time, could cause the inflator to rupture upon its deployment," the NHTSA said in a report posted Saturday.
Get your vans fixed.
5th Gear: The UAW Wants To Share
Contract negotiations between the United Auto Workers and the Big 2.5 automakers will be underway soon, and two big issues are profit sharing and bonuses. Ford and General Motors employees receive a lot more of both than Fiat Chrysler employees do. Via The Detroit News:
Profit sharing and bonuses will take center stage in the upcoming UAW contract talks, especially at Fiat Chrysler Automobiles, where hourly workers pocketed less than half of what their counterparts at Ford and GM received in the current contract.
There's also this business:
Experts say negotiations with FCA could be contentious because of the profit sharing disparity; FCA's second-tier workforce, whose employees rely more heavily on those payments; and work schedules that some FCA workers don't like. More than 40 percent of FCA workers are on the lower-paid tier.
Gonna be interesting to see how this goes.
Reverse: Richard Petty Is Unstoppable
On this day in 1986, driving legend Richard Petty makes the 1,000th start of his National Association for Stock Car Racing (NASCAR) career, in the Miller American 400 in Brooklyn, Michigan. He became the first driver in NASCAR history to log 1,000 career starts.
Neutral: How Will This Change Things For The VW Group?
The modern VW Group is very much a product of Piëch's management style and decision-making. What happens to the company's products with him gone?
---
Contact the author at patrick@jalopnik.com.