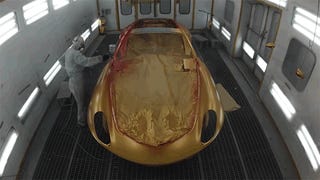 Carrozzeria Touring's Alfa Romeo 8C Disco Volante won the grand prize for prototypes at the Concorso d'Eleganze last year. This is how Italians create beauty.
The 8C Disco Volante, a hommage to the original Alfa Romeo Disco Volante Coupe of the fifties, wasn't the only coachbuilt Alfa at the event, but the only one that was based on Maserati/Ferrari technology instead of a very angry Viper. And it sounded like a Ferrari, too. All 443 horses of it.
Carrozzeria Touring has been at it since 1926, but in case you also want to get into the whole Superleggera business, apart from the mechanical bits and a team with amazing artistic skills, you'll only need 3,205 hours to build a car like this.
That's roughly nineteen weeks, or almost five months of work with hammers and state of the art carbon fiber. Then again, sleeping seems irrelevant when you're creating the most beautiful Alfa Romeo of the last decade or so...